Wedding Flowers by Season
From summer colors to classic winter elegance, the flowers you choose will say a lot about your style. Here are tips on choosing blooms in season to make sure you have the freshest flowers on your big day.
Flowers for your special day can come with an unexpected price tag. To help keep the costs down, choose flowers that are in season for your special day. This way, your florist doesn't have to special order blooms from farther away, which will cost more to make sure they arrive in good shape and in time for your wedding. We have gathered a list from local florists to make your decisions easier.
Spring
Spring weddings are the perfect time to let flowers that grow from bulbs take center stage. Think tulips, iris, lilies and daffodils. Other spring florals that are popular include peonies and lilacs, which can pack a punch both in fragrance and in the size of their blooms. Just be cautioned that many spring flowers are also delicate, and won't hold up in hot temps as well as hardier blooms like roses or sunflowers. You'll have a great variety to choose from, however, and spring bouquets can be colorful and fun.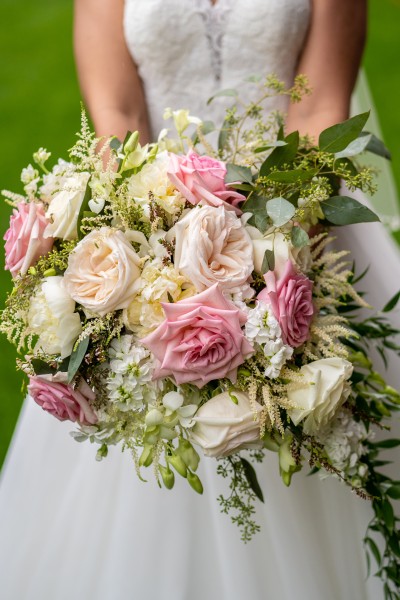 Photo: R. Becker Creative
Flowers: Victoria's Garden
Anemone
Casa Blanca Lily
Daffodil
Hydrangeas
Iris
Larkspur
Lilacs
Narcissus
Pansies
Peony
Ranunculus
Stargazer Lily
Sweet pea
Tulip
Wax flower
---
Summer
Later in the growing season means you have a little more variety and choice of blooms. Daisies and chrysanthemums are great options that come in a variety of shapes, sizes and colors, and also stand up well on a hot day. They can also help balance out your budget, since summer weddings are more expensive than other seasons. For a less traditional look, consider adding in freesia or snapdragons, or for a bit of wildflower-inspired whimsy look to asters and stephanotis.
Asiatic Lily
Asters
Chrysanthemum
Dahlias
Daisies
Freesia
Gerbera Daisy
Hydrangea
Iris
Larkspur
Queen Anne's Lace
Snapdragons
Stephanotis
Sunflower
Ranunculus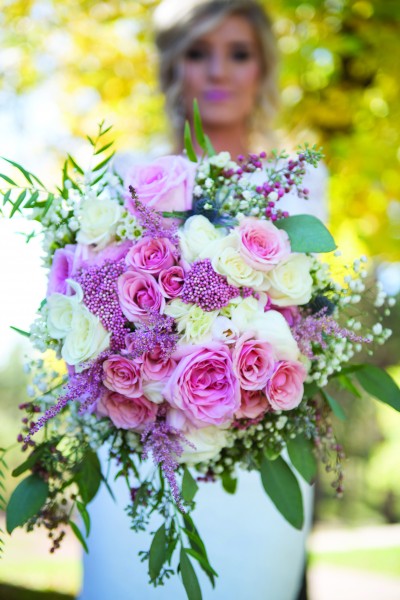 Photo: Dakota Love Photography
Flowers: Roots Wedding Florals
---
Fall
Fall blooms are sturdier than their summer counterparts, but also come in less variety of hues. Daisies and roses are still widely available, however, so if you're in early fall you can still get some late-summer vibes. For a true fall feel, look for marigolds and gerbera daisies in a range of reds, oranges and yellows. For a classic look, calla lilies are a popular choice that are simple yet elegant. Perhaps the best part of fall florals, however, is the fun you can add while feeling in-season. Think of pheasant feathers, dried foliage, and fun grasses you can use as inexpensive accents to fill out a bouquet in an unexpected way.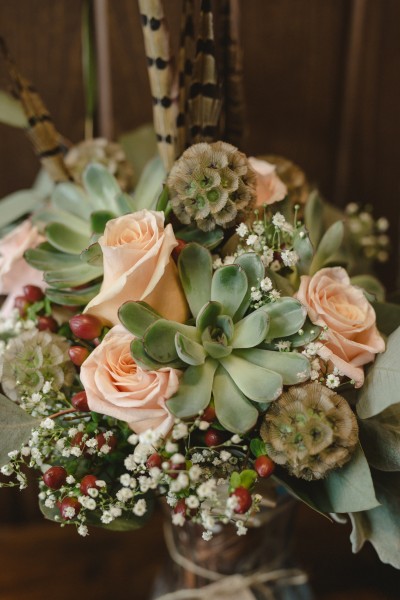 Photo: Chutin Flicks
Flowers: Bent Willow Designs
Asiatic Lily
Calla Lilies
Aster
Chrysanthemum
Dahlia
Delphinium
Dried Leaves
Freesia
Gerbera Daisies
Lisianthus
Marigold
Paper Whites
Statice
Sunflowers
Zinnia
---
Winter
Winter weddings have a great selection of flowers that we often see in holiday displays—but don't worry! You don't have to stick to traditional reds and whites. Look for holiday staples like poinsettias and amaryllis in pinks and oranges, or marbled varieties that will bring a new dimension to your bouquet. Berries are a different but fun addition to a winter arrangement, holly is a classic choice but you can also use evergreen berries like juniper. Likewise, winter is the perfect season to use lots of greenery to balance out a monochromatic arrangement, as many evergreen plants are available and affordable this time of year.
Amaryllis
Anemone
Bells of Ireland
Camellias
Casa Blanca Lily
Cosmos
Holly
Jasmine
Narcissus
Poinsettia
Ranunculus
Stargazer Lily
Stephanotis
Wax flower
Pines & Evergreens & berries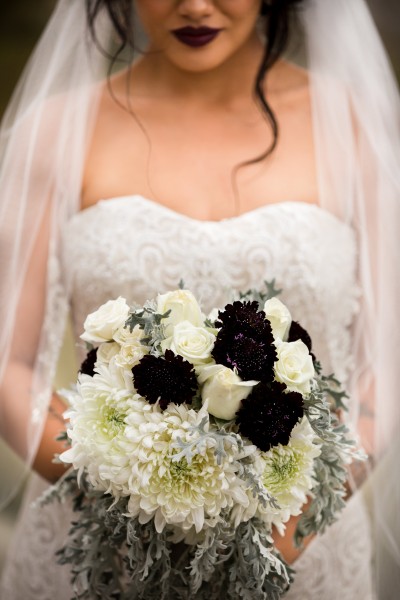 Photo: Indigo Blue Photography
Flowers: Affordable Flowers and More
---
Year-Round Flowers
There are some flowers that you'll be able to get no matter what season you're getting married, and that also means some of them are more affordable. Staples are roses, baby's breath, carnations and calla lilies. They're commonly stocked in most floral shops as well, so you might be able to get a discount since your florist likely orders them in bulk. Others are less common, but still beautiful and unique. Ask your florist if there are blooms they keep on hand all year, and what might be cost-effective for you to add with other more costly blooms if you have your heart set on something exotic.
Baby's Breath
Bachelor's Button
Calla Lily
Carnations
Delphinium
Eucalyptus
Gardenia
Gladiolus
Heather
Lily of the Valley
Protea
Rose
Scabiosa
Get Started
Find your perfect local vendors, Plan your perfect wedding, Share your perfect day - with Black Hills Bride.