Meet the Nieuwsmas

---
ANNA & JORDAN
Married June 18, 2021
Throughout their relationship, Anna and Jordan have enjoyed hiking, golfing, and exploring the great outdoors together. When Jordan got on one knee in the middle of a round of golf, Anna said yes to the perfect fore-ever.
Custer State Park was an easy choice for their big day, but the bride's heart was in the details: "I wrapped a piece of my mother's dress and veil around my bouquet, which made it really special," Anna said.

HEAR FROM THE BRIDE
Q: Let's hear it! How'd you two meet?
A: We met while I was in college and he was finishing high school. He went to the school that was our rival, and we were introduced to each other by my good friend who is his cousin.
Q: How did you get engaged? Were you surprised?
A: We dated all through college, and he eventually transferred to mine. We spent our spring breaks and family trips together, and when we graduated we moved in together. We golf and hike and do outdoor activities together a lot. I knew he had a ring but I didn't know when he was going to propose. One day we were golfing, and he proposed on hole three of one of our favorite courses.
Q: Why did you decide to get married in the Black Hills?
A: My husband and I both wanted to do a destination wedding that our family would be able to easily attend. We love the outdoors, and the landscape of Custer State Park matched perfectly with what we had imagined. I have a degree in geology and had previously interned in the Black Hills so I fell in love with the location.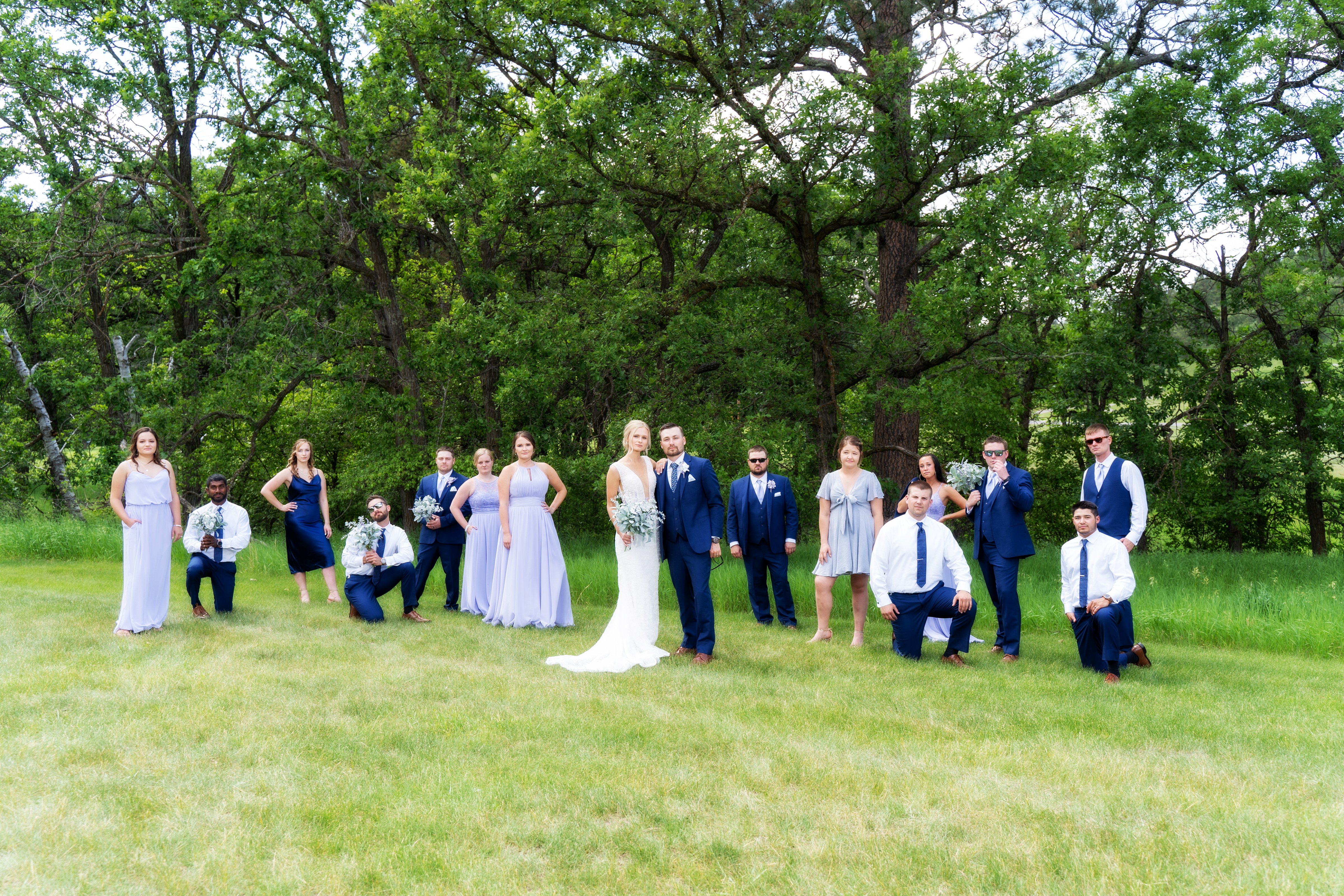 Q: Did you include your family members in your planning process? What were their roles?
A: The majority of the planning process was done by my husband and I. When creating the decorations and flowers, my mom and sister were a big help. On the day of the wedding, I had my mom and my aunts set up all my decorations and make sure everything was how we imagined it.
Q: What was your favorite detail you included in your wedding day?
A: One of my favorite details of my wedding day was having a piece of my mom's wedding dress and veil wrapped around my bouquet. Since my dad walked me down the aisle, I loved the idea of her being with me in a different way.

Another detail of my wedding that I loved was actually the shirt and tie that my now-husband wore. He went and picked out a shirt and tie that was different from the rest of the wedding party that was his own version of our wedding theme.
Q: What was your theme or style? How did you pick it?
A: The theme for our wedding was earthy and airy. We really wanted to utilize the beauty of our surroundings and used lots of clear glass and plexiglass as decorations. We had glass vases with floating candles on the tables and a clear card box and signs. Our colors were primarily soft, light purple and greens, and incorporated soft greenery into several aspects of the decor.


Q: Did anything unexpected happen? How did you handle it?
A: We had a bit of wind that started to move our decorations and was beginning to knock them over. We had to create makeshift weights that looked like decor to help stabilize certain items.
Q: What is something unique or different you included that other brides might not think of?
A: We played a game after supper that was a scavenger hunt crossed with musical chairs. We loved that guests and the wedding party were able to participate and it got all of our guests involved in helping the players find items. The pictures we got of this game are some of our favorites!
Also, instead of doing a dollar dance or garter toss we had some jars in front of the cake with "Bride" and "Groom'' written on them. As our guests went through and picked up dessert, they were able to put money into the jar of the one who they wanted to get cake in their face. Whichever jar has the most money got cake in their face when we cut the cake.
Q: What's one piece of advice you'd give to future brides?
A: For things I was really worried about on the wedding day, I picked a specific person to assign it to, and let them take care of it.
HEAR FROM THE PHOTOGRAPHER
Q: What do you love about being a wedding photographer?
A: The thing I love most about being a wedding photographer is the privilege of telling people's wedding stories in photo and video. Every wedding story is unique, and I love how brides and grooms make that big day their own.
Q: What is your favorite thing to photograph at weddings?
A: Formals with the bridal party and bride and groom are probably my favorite. We really get time to explore their personalities and visually showcase their love story.
Q: What was the best part of photographing Anna & Jordan's wedding?
A: Anna & Jordan definitely were one of the most sincere couples I have ever had the pleasure of working with. I completely adored how their love for each other shines through in their smiles when they look at each other, which really made their images stand out.
Q: What advice would you give to couples looking for their wedding photographer?
A: I usually talk to my bridal couples about the importance of professionalism in their photographer. Obviously, creativity is very important, but because there are no second chances with wedding photography, knowing you can trust your photographer is hugely important.
MEET THE CREATIVE TEAM
Photographer: R.Becker Creative | Hair: Laura Myers of Sweet Clover Salon | Bride's dress: Marie and Marie Bridal, Sioux Falls, SD | Tuxedos: Men's Wearhouse | Venue: Custer State Game Lodge, Lover's Leap Deck | Catering: Custer State Game Lodge | DJ: Marek's DJ Services | Jewelry: Riddle's Jewelry | Officiant: Your Joyful Wedding

Looking for inspiration? Want to hear more love stories? Then check out our Real Weddings and don't forget to view our vendor profiles to help you find your perfect team for your big day.
Next Article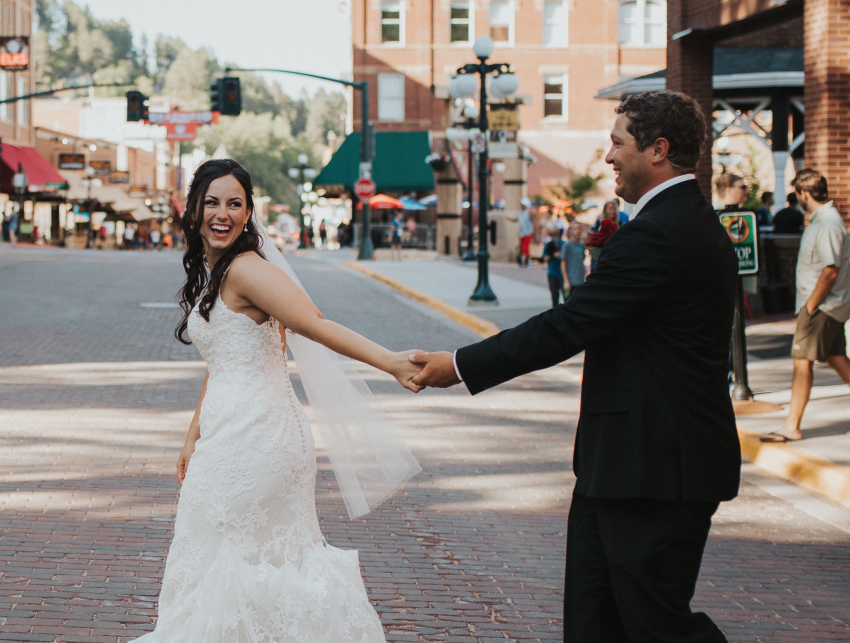 Meet the Forcellas
Get Started
Find your perfect local vendors, Plan your perfect wedding, Share your perfect day - with Black Hills Bride.