The Biggest Wedding Budget Mistakes to Avoid
Nobody likes to talk about finances, but it's the one thing that can derail your wedding planning faster than anything else. We gathered some of the biggest wedding budget mistakes to avoid so you know about them up front and can hopefully save some stress down the road.
First things first
The first mistake you can make is not agreeing about how much you want to spend. Sit down and have an honest conversation with your partner about how much money you have, whether on your own or with help. Even if you have deep pockets, do you want to spend it all on the wedding or save some for the honeymoon? Maybe you want to buy your first home, and save for a down payment. This isn't always an easy talk to have, but it will absolutely have to happen at some point in your planning process, so getting it out of the way first is ideal. What you don't want to happen is falling in love with your dream dress and finding out your parents are not prepared to pay for it.
The second thing to decide up front is the guest list. It may seem like putting the cart before the horse, but the number of people you invite has a drastic effect on your budget. You might be able to afford a black tie soiree for an intimate group of 50, but if your mom has six siblings who will all feel left out if they don't get an invitation, you'll quickly run out of money. A general rule of thumb is to allocate 50% of your budget to the venue and rentals. Your guest count will determine how big of a venue you need, as well as how much food, alcohol, and rentals such as chairs and linens you'll need. If your guest list is way too big for your budget, now is the time to have a hard conversation with everyone involved and reconcile your list with your budget. That may be paring down guests, or opting for less expensive options in your wedding planning.
Start looking at details
You've gotten past the first two mistakes; and they're the biggest factors, so everything from here should be smoother sailing.
We mentioned that about 50% of your budget should go to venue, catering, and rentals. That leaves things like attire, photography and videography, decor, entertainment, and stationary. This is another time to sit down with your partner and decide what's important to you and allocate funds accordingly. Photos, attire (including your dress and wedding bands), decor, and entertainment all usually fall around the 8-12% range for most weddings. Things like transportation, officiant fees, stationary, and guest favors are usually closer to about 2% of the total budget. It's up to you as a couple to decide what's important, and what's flexible. The last category you should consider is a cushion, or a slush fund. Some things will cost more than you expect, so having some space built into your budget can help ease stress at the last minute.
Another huge mistake that's easy to make: not keeping track of your spending. This is especially true if you have people helping you or making purchases on your behalf. Make a note of every single dollar spent and where it went, so you know if you need to adjust your spending. Also keep an eye out for "hidden" costs like service fees, overtime fees, gratuity charges, or change fees. A 10% fee may seem small, but depending on the service it applies to, it can catch you off guard; or worse, blow your budget.
Don't fall for the hype
One of the fastest ways to blow your budget is to buy things you don't need. It seems simple, but there are plenty of things you'll encounter in wedding planning that don't necessarily add anything to your big day. There are some items traditionally included in weddings that you may or may not find use in, like fancy table linens or wedding favors, or fads that you might not really want, such as a photo booth or save-the-date magnets.
If you can't decide whether to pay for something, ask yourself "will anyone — especially me or my partner — notice if we don't do this?" If the answer is no, it's probably an easy thing to leave out and save your budget for more important things. Also, think back to weddings you've attended in the past. Did they have guest favors? Do you remember what the table setting even looked like? If the answer is no, it could be something your guests won't notice either.
Setting a wedding budget may seem tedious, but it's better to start early and enjoy the planning process without stressing about money. Your wedding day is one of the most important days of your life, but it is just one day. The new life you're starting as a couple is more important than party favors or dinner menus, so keep your eyes on the big picture when you're planning and stay on budget!
Next Article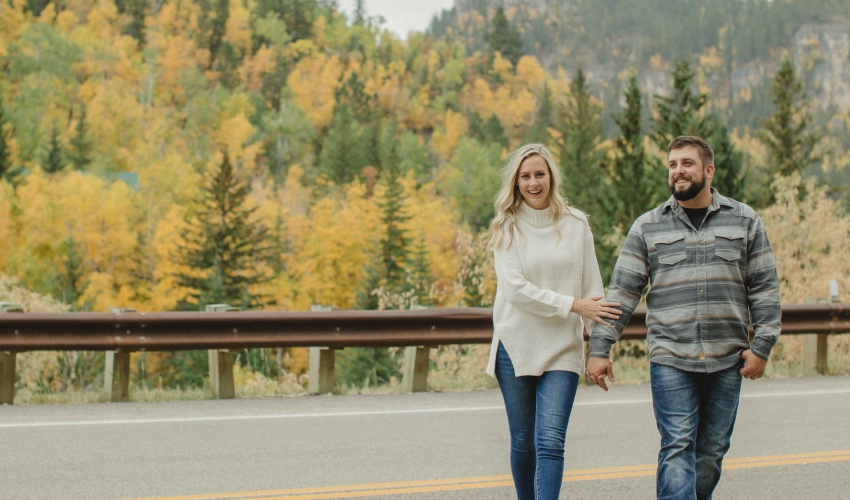 Lauren & Austin
Get Started
Find your perfect local vendors, Plan your perfect wedding, Share your perfect day - with Black Hills Bride.