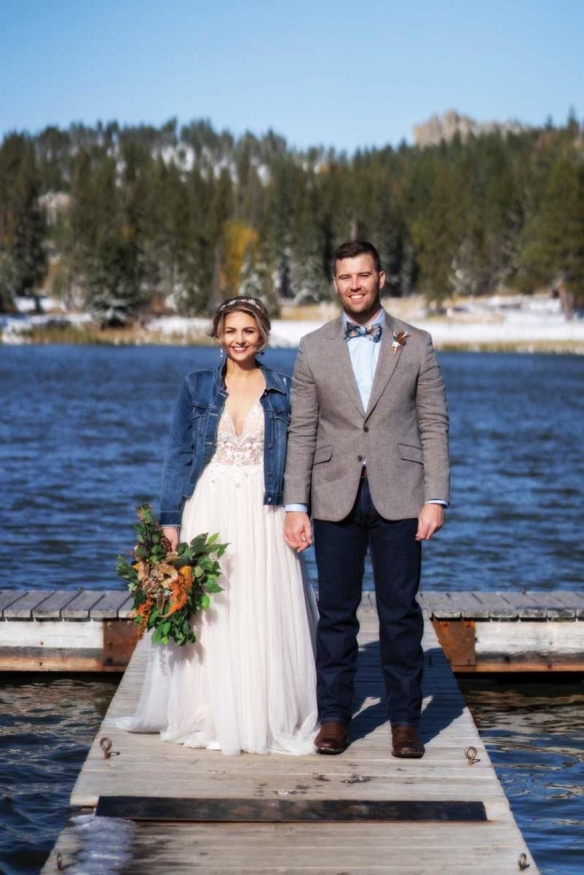 Vanessa and Sage Rinker
Wedding Story
The Day We Said Yes
Friday, October 11th, 2019
Our Love Story
They chose the date in order to have a perfect fall wedding complete with rusty oranges, pumpkins, acorns and more. The ceremony was originally scheduled for the Lover's Leap deck, but a surprise October snowstorm forced a last-minute change of plans. They moved it to Sylvan Lake, and guests had to relocate to a different hotel and navigate an icy Needles Highway. Several members of the bridal party had been stranded in airports that week hoping to land in Rapid City on time, and fortunately, everybody made it. The couple says that as crazy as it sounds, they are glad everything happened the way it did because it was absolutely gorgeous and many of their Florida friends had an opportunity to experience their first snowfall.
How We Met
Sage and Vanessa met at a bar called Frosty's Christmas Lounge in Orlando, Florida. It snows at the top of every hour in the holiday-themed bar, a novelty in Florida. Little did the couple know that snow would almost derail their wedding plans!
Planning Our Day
It was difficult to plan for the wedding long-distance, but Vanessa's family was very involved and let her store everything needed in their homes.
Wedding Hint
GO WITH THE FLOW!!!! You won't be able to control everything and guests won't know the difference of what was supposed to go where and so forth. No one will remember your centerpieces or flowers, so don't stress the small stuff. The day is about you and the love you and your partner share so don't lose sight of that.
Get Started
Find your perfect local vendors, Plan your perfect wedding, Share your perfect day - with Black Hills Bride.