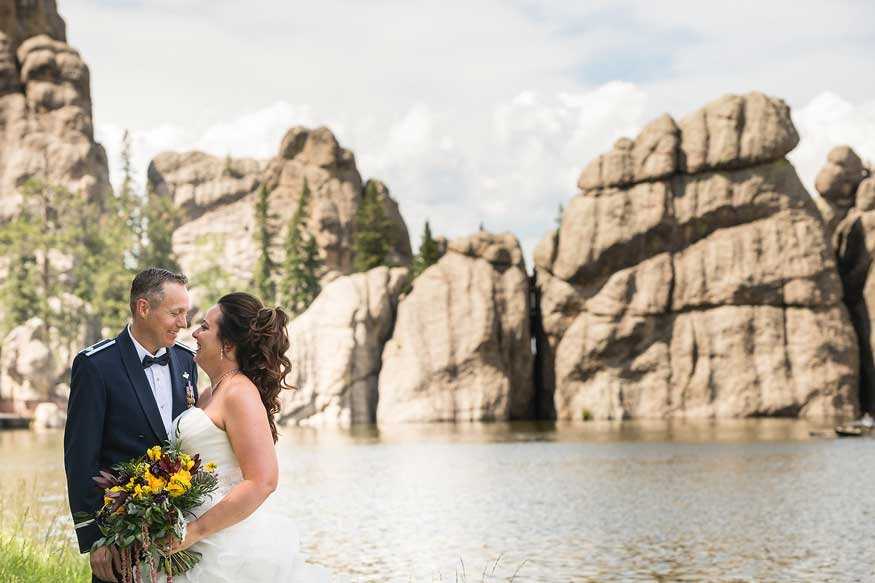 Tonia and Heath Miller
Wedding Story
The Day We Said Yes
Saturday, July 14th, 2018
Our Love Story
We had our wedding at Sylvan Lake on July 14, 2018 and the weather was absolutely gorgeous, the sun was shining and the wind was not blowing. The best part was being able to finally celebrate our special day with all of our friends and family. The most memorable part for me had to be my husband's speech at our reception, he had thanked me for being so patient and literally following him around the world before we were actually able to have a wedding celebration with friends and family. Before our ceremony we had gone to a greenhouse and found a small aspen tree that we placed at the ceremony site the day of our wedding. I took soil from my dad's house and we had Heath's parents bring soil from there house. During the ceremony we did a unity tree ceremony.
flowers Jenny's Floral
makeup Posh Salon and Spa
music Colt 45 Entertainment
hair Posh Salon and Spa
How We Met
My husband is in the military so we met in 2003 when he was stationed at Ellsworth the first time. I was friend's with a girl that was dating a military member that was in the same squadron as my husband. We had all went out for the night to celebrate my friend graduating and her and her boyfriend introduced me to Heath. At first we did not hit it off, but I ended up tracking him down and we set up our first date (and if you would like the story of our first date let me know, lol)

We were stationed in Abilene, Texas and he had wanted to take my hiking through Abilene State Park because that is where we went every weekend to spend time together and to take our dogs out for a hike. Unfortunately I was on call and unable to leave the house, so we went out to dinner and when we got home he started a fire in our fire pit in the backyard and he got us both a glass of wine and went he came out to give me my glass of wine he got down on one knee and proposed.
Planning Our Day
I am a procrastinator and am not a fan of planning so I did not do a lot of planning and just went with the flow and advise from others. Since it took us five years to actually have our wedding I had a lot of time to think about things. I had picked my wedding dress out before we moved to Germany in 2013 and used the same dress for our wedding in 2018, I had also picked and paid the deposit for our venue (Sylvan Lake) in 2013 as well. My husband helped me pick out our wedding invitations in January when he came back from deployment, I picked our colors out in May, and we finalized everything else in June. I went to Table 4 Decor and told her what my husband and I liked and she went with what I told her and did an absolutely stunning job decorating our reception hall! For tools I pretty much used my friends that were already married, Amy from Legacy photo and Table 4 Decor. I also used Jenny's Floral, I gave her a couple of pictures that I liked for my bouquet and the bridesmaid bouquets and told her the colors of my wedding and she created beautiful bouquets for me. I also got quite a few of my ideas from Pinterest.
Wedding Hint
I would definitely consider using a company to decorate your wedding, you don't have to worry about decorating and taking decorations down and it eases the stress of your big day. Planning your big day is every girl's dream and it can be very stressful, but if you can avoid as much stress as possible and let people help you with everything your big day will run so much smoother and cause a little less stress and anxiety for the bride