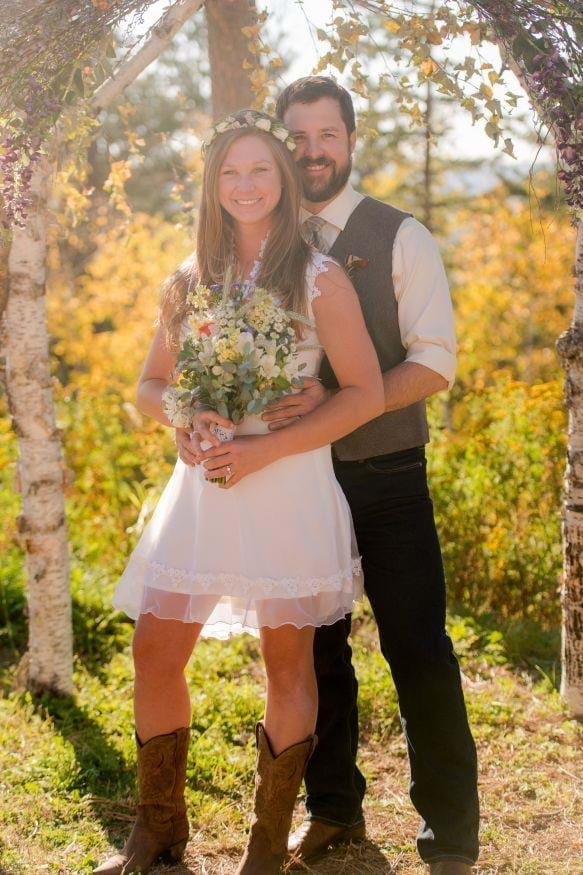 Toni and Alex Dickman
Wedding Story
The Day We Said Yes
Saturday, September 19th, 2015
Our Love Story
The favorite part of my day is that my special friend, Baby Dog a small Silky Terrier, was with us through every segment of the wedding day. As most dog lovers can attest, she has a hold on my heart. I love Alex; Alex loves me; Baby Dog loves us; we love Baby Dog!
catering The Old West Dutch Oven Catering Co., LLC
flowers Bloomers Flowers and Gifts
How We Met
Alex and I had worked in the same small town, Deadwood, in the gaming industry for 5 or more years. However, even though this working community is close and he dated one of my closest girlfriends, we had never met. I had returned to Deadwood after being gone for 3 years. I had been in California to complete a degree in visual arts. Similarly Alex had just returned to Deadwood after working in Presho, SD managing a pheasant hunting business. Both Alex and I had ended relationships just prior to our return, and we both vowed to focus on ourselves and take a break from dating. In April of 2013 the Black Hills area experienced a series of weekend blizzards. During one of these blizzards my best friend (Alex's previous girlfriend) and I walked downtown. Alex was bartending, so we hung out with him and others who were taking reprieve from the blizzard in the casino. Even though we both had vowed to take a break from dating; we just couldn't help ourselves. We've been together ever since that April blizzard, and we made a lifelong commitment to each other on September 19, 2015.
Planning Our Day
It seemed that our wedding planning occurred in two phases. I had an extremely clear vision of what I wanted, and even though Alex supported my wants; he had one need in which he was steadfast. He was adamant that his groomsmen would not be required to spend even one dollar for their wedding wear. Initially, we were going to have a large wedding with 150 plus guests. We had decided on a date and booked and put down a large deposit on a rather expensive outdoor venue. I shopped for and modeled for my mother SEVERAL wedding gowns that were all absolutely gorgeous. None, however, were quite right. In fact, nothing we had decided upon so far felt quite right. We decided everything needed to change, and so emerged wedding planning phase two. We did a 180 degree turn and started over. Our event ended up with 70 guests of immediate family and close friends. Neither bridesmaids nor groomsmen spent a dollar on wedding gear. (Alex's one need was met!) The event was held at a beautiful outdoor setting at the top of Terry Peak. Our theme was reuse, recycle, and repurpose. I wore my mother's wedding gown with extreme alterations. We exchanged our vows under an arch that Alex and I had made out of aspen and birch logs. We created a dessert table decorated with family members' and friends' vintage cake toppers, crystal candle holders and candles, and an eclectic grouping of favorite desserts. We splurged on the food; we served our guests a Dutch oven dinner cooked on site accompanied with wine, champagne, and kegs of beer. We enjoyed the food, spirits with family and friends who were seated on rustic picnic tables decorated with vases and candle holders hand blown by me. A close personal friend played the guitar and sang music we had chosen. Festivities continued into that beautiful fall night with dancing and good cheer. Alex and I also splurged by renting this vacation home for our wedding night; the solitude and beauty it offered was the perfect place for us to begin our married life together.
Wedding Hint
Just like most major life events, it is the journey along with the wedding ceremony and celebration that create the memories. Alex and I encourage the bride and groom to hold fast to their vision, plan an event that they can afford, will cherish, and most importantly is, in your mind's eye, perfect in every way.
Get Started
Find your perfect local vendors, Plan your perfect wedding, Share your perfect day - with Black Hills Bride.