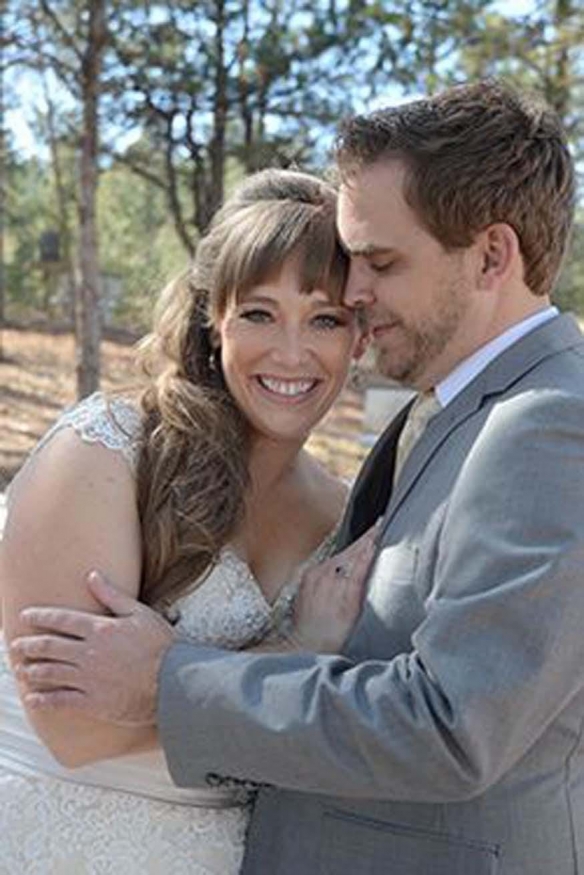 Stephany and Ryan Chalberg
Wedding Story
The Day We Said Yes
Saturday, March 21st, 2015
Our Love Story
Seeing all the little details come together and actually look good was so great! It's hard to picture the decorations set up in the church and reception venue and to imagine everything coming together. I bought items throughout the planning process and we were building different accent pieces, but we never saw it all together until the wedding day. It was such a relief to see that everything actually matched and it come together!
A little selfishly, I loved my entrance to the church. It was something I was very nervous about, but turned out amazing. My dad passed away a few years ago, so the idea of walking down the aisle without him brought a lot of anxiety to the planning process. I am very blessed to have such a great family and my grandpa walked me down the aisle. The church is very large and we closed the doors before I came in (after the bridal party and flower grandma's); our singer began singing Ave Maria and a few beats into the song, my ushers opened the doors and light flooded into the church silhouetting my grandfather and I making for a very grand entrance befitting the grand church!
cake Star Spangled Batter a Cupcakery
suit Main Street Menswear
transportation Legendary Limousine
How We Met
Ryan and I share a very close friend - and oddly we never met until the summer we started dating! It's so interesting that we could have met dozens of times over the years - but we didn't. The timing of our first meeting and first date was perfect - we were both in the same place emotionally that we had an instant connection.
We share so many unique interests it's a miracle we found each other! We love going to concerts at Red Rocks in Denver. We've seen our favorite band (The Avett Brothers) about a half dozen times - we even got engaged at one of the shows at Red Rocks.
Shortly after we started dating I bought a house. We totally transformed it together, updating and fixing just about every square inch. Having a passion for home renovations isn't something either of us knew we had until we had this joint project to work on.
Planning Our Day
Our theme was rustic glitter! We hand crafted a lot of times to add personal touches throughout the celebration. We built a guestbook bench (which is now sitting in our yard); painted a family tree on a plank-board custom frame and even carved a heart in a tree stump to hold the markers for our guest book. We added bits of gold sparkle throughout the ceremony and reception to bring a little more romance to the overall look and tie everything together.
We splurged on our wedding video, photographer and our ceremony location.
We've had friends and family get married recently who didn't splurge on the photographs and that's their biggest regret. So, we knew having a professional, well-rated photographer and videographer was a priority.
And, we splurged on our ceremony location. We are both Catholic and wanted to be married in the Church. Because of weekend Mass times we would have needed to do a 1pm wedding to be married in our regular church. We wanted an evening wedding so we splurged on our ceremony by having it at Terra Sancta and it was totally worth it.
Wedding Hint
You can't stress over things outside of your control. Our 2-year-old niece came down with a stomach bug, was in and out of urgent care the weekend of our wedding and was unable to attend. We were very sad as we had our three grandmas enlisted as flower girl / ring bearer escorts. They would also be flower-grandmas. We wanted our whole whole family to feel included. But, with our niece home sick we were short two flower-'girls'. We were sad she couldn't make it, but at the same time it was out of our control and so instead of stressing over it we just were thankful she didn't have something more serious.
Also, with a spring wedding the weather was a big question mark. We were very thankful the day of our wedding was windless and warm! No snow in sight.
Get Started
Find your perfect local vendors, Plan your perfect wedding, Share your perfect day - with Black Hills Bride.