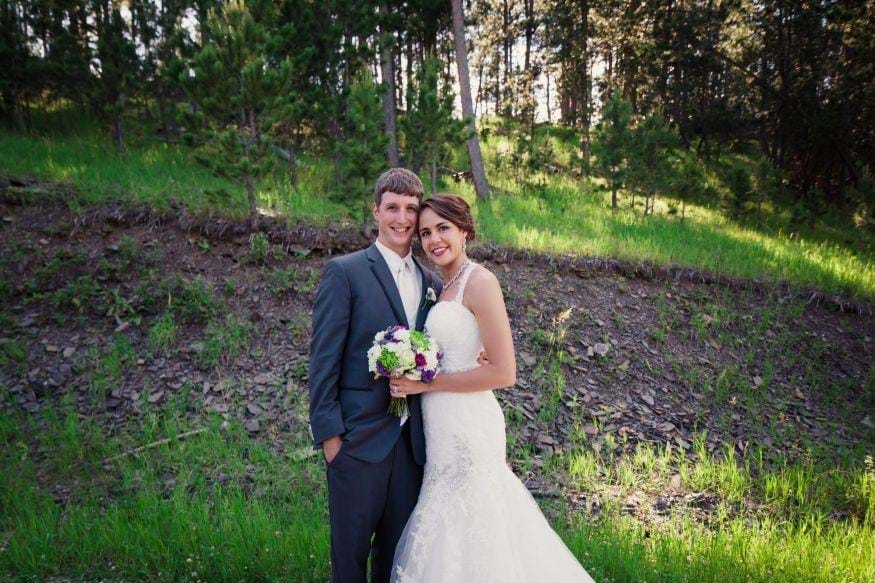 Sarah and Tate McGhehey
Wedding Story
The Day We Said Yes
Saturday, June 27th, 2015
Our Love Story
My favorite part of the day was the limo ride after the ceremony. This allowed the wedding party and newlyweds to celebrate together and blow off some steam. We had a great limo cruise along with some fun picture opportunities.
cake Star Spangled Batter a Cupcakery
How We Met
We met while working at a restaurant in college. We became instant friends, eventually becoming boyfriend/girlfriend. A short time after we started dating, I moved to Spearfish, SD to student teach and finish my schooling. We were long distance for 10 months before Tate finally moved to SD. A year later, we relocated to Scottsbluff, NE for a job opportunity, where Tate proposed 4 months later.
Planning Our Day
We didn't plan on a theme, but we ended up following many aspects of an Irish wedding. The blessing stones in place of a guest book was one of the big celtic spins, along with the celtic love knots hung around the venue. We definitely splurged on the gorgeous venue and delicious food that was catered by the venue.
Wedding Hint
Relax. Everything will fall into place with or without the stress, so try and relax and focus on the positives. It is all worth it once the day arrives.
Get Started
Find your perfect local vendors, Plan your perfect wedding, Share your perfect day - with Black Hills Bride.