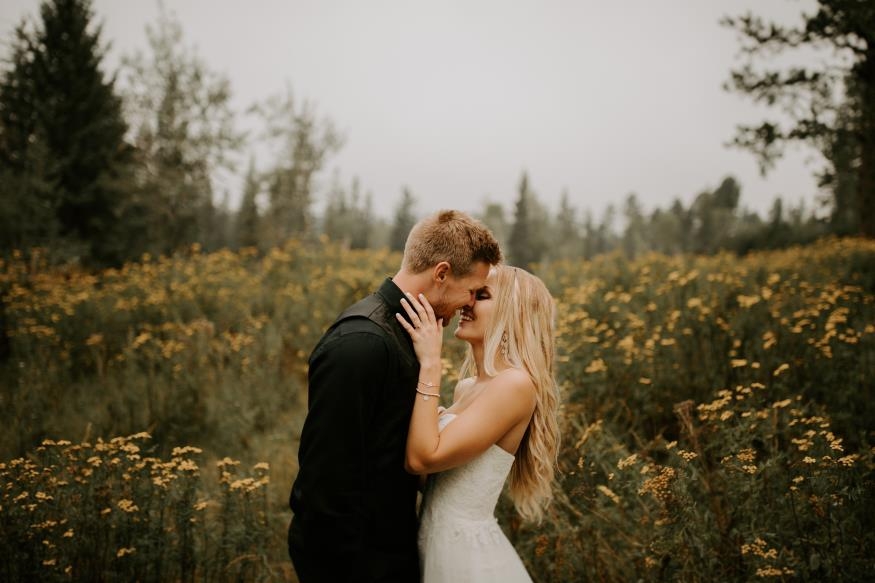 Sarah and Brek Carper
Wedding Story
Wedding Theme
DIY, Modern, Romantic, Rustic
The Day We Said Yes
Saturday, August 18th, 2018
Our Love Story
August 18, 2018- we checked the forecast for months with sunny skies and 80-degrees in the plans for weeks, only for the predicted weather to switch on us days before our Black Hills wedding at the Terry Peak Chalets in South Dakota. We willed and wished the weather to change back to cloudless, cheery perfection, but God had other plans… and looking at the photos by our amazing photographer Tessa Pesicka now I wouldn't have it any other way.
It ended up being a cold, rainy, foggy day at Terry Peak- fairly unusual for a Black Hills summer but perfect nonetheless… and quite honestly, my favorite kind of weather with my favorite person.
Terry Peak is a special place to Brek and me: we've been friends since high school but Black Hills State University in nearby Spearfish, South Dakota is where we reunited and fell in love. The two of us spent countless days in college snowboarding the hills at Terry Peak Ski Resort with each other and with our friends, me trying my best to keep up with and impress the guys and Brek teaching me and my girlfriends how to "carve" on our snowboards.
I specifically remember one day watching him hold my best friend Jami's hands in his and swinging her back and forth to teach her to grow comfortable with the motion… I was so in love with his patience and the way he made people laugh in that moment.  Little did I know she would become one of our MOH's just steps from that slope years later.
Our entire wedding weekend was full of family, love, and personal details. My aunts prepared all of the food, my uncles, aunt, and cousin provided the music. I wore the boots my mom got married in and my cousin and one of Brek's and my friends did the girls' hair. Our sisters did special readings and my brothers walked me to my dad and gave Brek their blessing before my dad walked us down the aisle. I got to bake and decorate our wedding cake with Brek's grandmother, prepare all the flowers with my mom, Brek's mom and grandmother, and my two MOH's, and my cousin officiated the wedding. All of our decor had hints of things that held meaning for us, from the airplane propeller that served as our guest book to the little photos of our dog and loved ones scattered throughout to the "you are the best thing" floral hoop that sat over our head table as a nod to a Jack Johnson song (Brek asked me to be his girlfriend with Jack Johnson lyrics).
I can't count the number of time people came out of nowhere to make things perfect despite the rain, and that's exactly what it turned out to be–perfect. In fact, the rain forced us all to stay inside under the pavilion at Terry Peak Chalets that we had set up as a dance floor, and we danced, laughed, and loved away the cold and rain.
ceremony venue Terry Peak Chalets
reception venue Terry Peak Chalets
lodging Terry Peak Chalets
How We Met
We knew each other in high school, meeting for the first time our sophomore year. Brek went to high school in Gillette and I went to high school in Moorcroft, so our paths were bound to cross at sports games, parties, get-togethers with mutual friends, etc. I actually tried to get Brek and my best friend (who came to be our maid of honor) to date.
They didn't, by the way.
We stayed friends through high school and our first two years of college, Brek playing football and attending Chadron State College, I was at MSU-Billings. He transferred to Black Hills State University a semester before I did, and when I decided to transfer to Spearfish to be closer to my family I really only knew him and one of my best friends from high school at BHSU. I asked him to take me hiking and get together once in a while so I could have someone to hang out with, and the rest is history!
Planning Our Day
I was a planning fool from day one. After Brek and I got engaged, I quickly put my Pinterest addiction to use and got to planning right away… picking my bridesmaid dresses within one month (okay, maybe one week).
While shopping online through my very favorite online boutique, VICI Collection, I stumbled across the perfect black lacy numbers and knew they would fit our timeless-yet-moody, modern aesthetic. What can I say? I couldn't help myself.
I knew I wanted my closest friends to stand with me, and I knew all of their sizes. The dresses were on a flash sale and I had already talked to my two MOH's and asked them what they thought, so we went for it in hopes everyone else would love the dresses with the intention to return them or sell them if anyone wasn't in love. Luckily they all loved them, and they all looked stunning.
As for decor and other elements, I ultimately chose to DIY everything I could to fully personalize our day and to save money. I explored a couple of options, but my family, fiance, my best friends and I knew that we would all enjoy creating the perfect day ourselves. From the flowers to the food to the decorations and everything in between, all the details would have a touch of Brek and I woven in.
This made Terry Peak Chalets the perfect venue for us. Everything and I mean everything, was DIY there. They provided gorgeous all-weekend accommodations for our closest friends and family, and the rest was up to us for how we wanted the experience to be.
Wedding Hint
Start planning early, but don't sweat the small stuff! A month before the wedding, I felt calm and excited for the big day because I had tackled all the details one by one rather than waiting until the last minute. A checklist from apps like The Knot or WeddingWire is essential–mine saved me as a DIY bride!
Get Started
Find your perfect local vendors, Plan your perfect wedding, Share your perfect day - with Black Hills Bride.