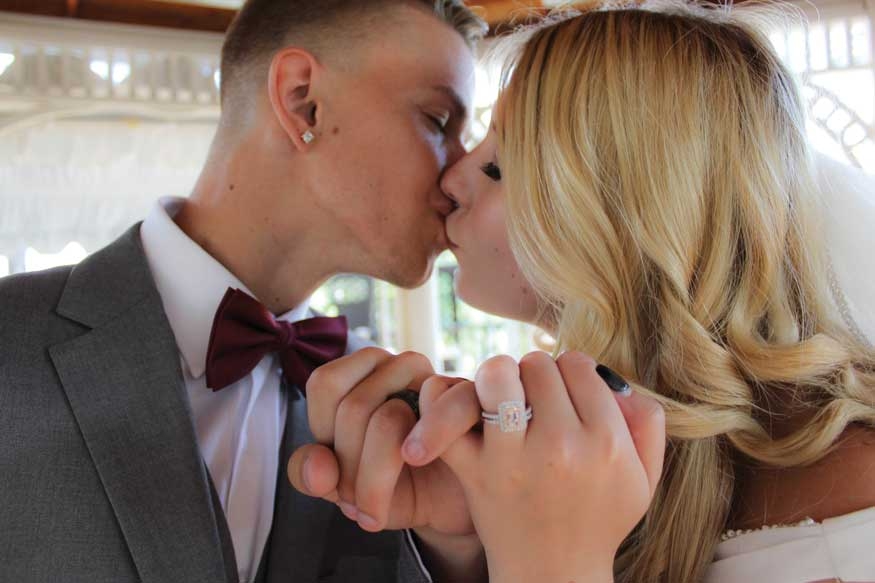 Montana and Zachary Krochta
Wedding Story
The Day We Said Yes
Sunday, July 1st, 2018
Our Love Story
We wanted a small, friends and family wedding. Nothing too extravagant, but classy and rustic. The wedding took place outdoors in the beautiful Black Hills National Forest, the weather was sunny without a single cloud or even a gust of wind. We got to the venue around 2 to get changed and do my hair and make up while our family set up the grills for the reception. The ceremony was at 4 o'clock and I had wrote the officiant script myself for it to be short and sweet! Zach and I also wrote our own vows. Afterward, we took photos while our friends and family cooked burgers and hot dogs and set up the dinner. We opted out of having available alcohol for the safety of our guests. We ate and then the DJ instructed the rest of the evening's activities in a timely manner, such as our first dance. Which was we did the Waltz to "You and I" By John Legend. We left the venue around 8 o'clock I believe as I climbed on the back of Zach's motorcycle in my wedding gown and we drove off to our one night stay hotel suite. (The Country Inn and Suites)

I would say the best part about our wedding was our brides maids and groomsmen. We have a small, but very tightly woven and loving nest of friends as the walls of our marriage and that is all I could have ever asked for! The most memorable part for both Zach and I is that every single piece of our wedding day was planned entirely by us and was unique to our relationship. The most unique part of our wedding day was defiantly the motorcycle ride at the end of the night!
How We Met
Zach and I actually met on an online dating app similar to Tinder. We talked a little bit over messages and snap chat but I wasn't really looking for a serious relationship. But I happened to see him downtown in rapid and thought he was absolutely stunning so I asked him if he wanted to meet and we met that next weekend and he took me to Wendy's! Haha! He said he was instantly smitten with me and I even turned down quite a few his requests to date me, I wanted to make sure I wasn't jumping in to quickly. He met my parents on Mother's day 2017 and after that, it all fell into place after that. He was irresistible and we had never been happier.


So, Zach and I had talked about marriage and he asked for my Dad's blessing and proposed to me shortly after. He was very romantic about it! He set up our one bedroom apartment with post-its about our favorite dates we had been on since we met, with a path of rose petals going from one post it to the next. Which finally led to our bedroom door, when I walked in he was down on one knee with the ring and the words "Will you marry me?" spelt out in heart shaped rose petals. I said yes of course 😉
Planning Our Day
I planned our wedding myself with tips and pointers from my cousin and bridesmaids. Per my cousin's advice I used a wedding planning app called WeddingWire which gave a day by day monthly planning of what should be accomplished at each point in time approaching the big day so you didn't get behind and had to rush to get everything done! I would have to say it helped tons to keep myself organized. Also, Zach and I set a budget amount we were willing to spend on the wedding and honeymoon so we didn't get carried away with little things, and I as soon as we set the date I got everything we wanted written down in a binder with prices to control and visualize our spending!
Wedding Hint
Your wedding is YOUR wedding. Never mind what other people expect it to be. I see too many brides-to-be worrying about guest's wants and needs when the wedding is supposed to be about you and your spouse. If your guests don't like your wedding? Oh well! They're there to support you and your hubby and that's what your focus should be on; it will save you a lot of worrying! Also, include your groom's opinions and what he would like to see happen at your wedding, I got a lot of great ideas from Zach about our wedding! Including he wanted a chocolate fountain (which we didn't end up getting haha) but including him and his ideas made the wedding planning feel effortless and fun! Good luck, and I wish you a long, happy married life journey.
Get Started
Find your perfect local vendors, Plan your perfect wedding, Share your perfect day - with Black Hills Bride.