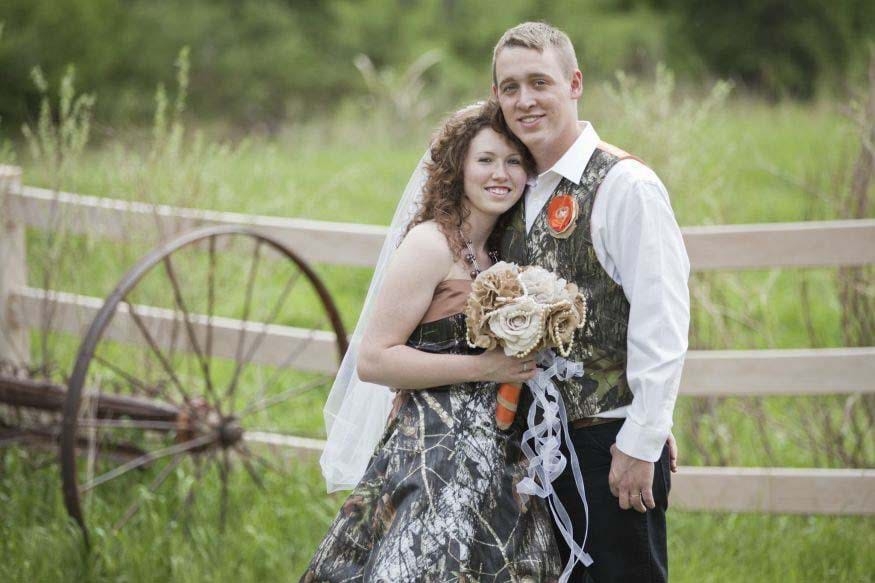 Monique and Bryan Dock
Wedding Story
The Day We Said Yes
Saturday, June 6th, 2015
Our Love Story
My absolute favorite part of the day was when we were taking our photos before the ceremony. The girls and guys were separated because we hadn't done our first look yet. I was inside the house with my photographer, and we went upstairs to shoot a couple photos on the balcony. I had barely stepped outside when I saw my soon to be husband walking below towards the reception tent. (he was supposed to be in the bunkhouse, hiding). I jumped back inside, while the photographer went to yell at him to go away (all in good fun) but when I saw him walking, for the first time in his vest and jeans and boots, I started to cry. and not just little tears. I had to fix my make up because I was bawling. He was so handsome, and I was so lucky.
reception venue Copper Canyon Lodge
entertainment Colt 45 Entertainment
How We Met
Couples don't usually get as lucky as we do. Bryan and I are best friends. Our meeting wasn't that grand, we met online. But for our first date, he came and picked me up in his truck with camouflage seats and I had stars in my eyes.
We both are just two hard working country people. He is in the Air Force, and I am a Pastry Chef. We collect guns and hunt together, as well as cooking together. We share many different hobbies and interests, which makes our relationship that more special. It's amazing when you can share all the things you love with your special someone, and they enjoy it as well.
Planning Our Day
Our engagement was very unplanned, but a very funny story. Months before our first anniversary, he had brought up the idea of getting professional pictures done for Christmas cards, And my mind just went racing. I thought, for sure he's planning to propose and get it on camera!I mean, what 23 year old man WANTS Christmas card pictures? I spent the next couple months searching high and low for a ring without any luck. When it came time to do our photos, the whole session I was just waiting and waiting. Finally the photographer said she had enough shots, and we all went home. Later that night, I got too emotional, and turned into a blubbering idiot, telling him I thought he was going to propose. Next thing I knew, he was down on one knee.
After that the planning went fast. I am a very impatient and well organized woman. 3 weeks after we announced our engagement we booked our Ceremony and Reception at Copper Canyon Lodge.
Our theme(s) is Camouflage and Hunter's orange, as well as burlap.
What makes all our planning special is my fiancé and I made almost everything on our own.
We spent hours making our invites and programs, where we individually burned the edges of every single piece of paper, before attaching it to cardstock with a little raffia bow. I have to say, everyone thought we bought them.
We made our own guest book, and stained the wood for it on our own. He made the cake stand, and our kissing bell (that gets passed around at the reception). He also made our cake stand, and me being a baker and cake decorator, I am making my own cake. I made all of the bridesmaids their necklaces, and all of our bouquets. His sister made all of our boutonnieres and corsages. We cut out tree cross sections for our center pieces, along with mason jar homemade candles. I also made the flower girl basket. Then, my Grandma and her sister made ALL of the vests for the men in the wedding, as well as the vest for our Dog, Buck, who is our ring bearer dog. She also made the dresses for my step Mom, Mom, and our junior bridesmaid and flower girl, as well as our burlap tablecloths.
My fiancé's mom back in Wisconsin smoked and pulled pork, and will be bringing that. Then she along with other women in the family will be making the rest of the food.
It almost would have been easier to say what we DIDN'T make on our own.
We did splurge for our photography and our music. Those were probably the most expensive next to the cost of the ceremony/reception site of course.
Making almost everything our own made everything so much more special, and unique to our style. While country style weddings are becoming more popular, no one will ever have what we did.
Wedding Hint
Start planning right away! and be realistic about your budget. Everyone kept telling me how on the ball I was, and all I could think is, why wouldn't you get everything planned so you weren't doing it last minute!
Get Started
Find your perfect local vendors, Plan your perfect wedding, Share your perfect day - with Black Hills Bride.