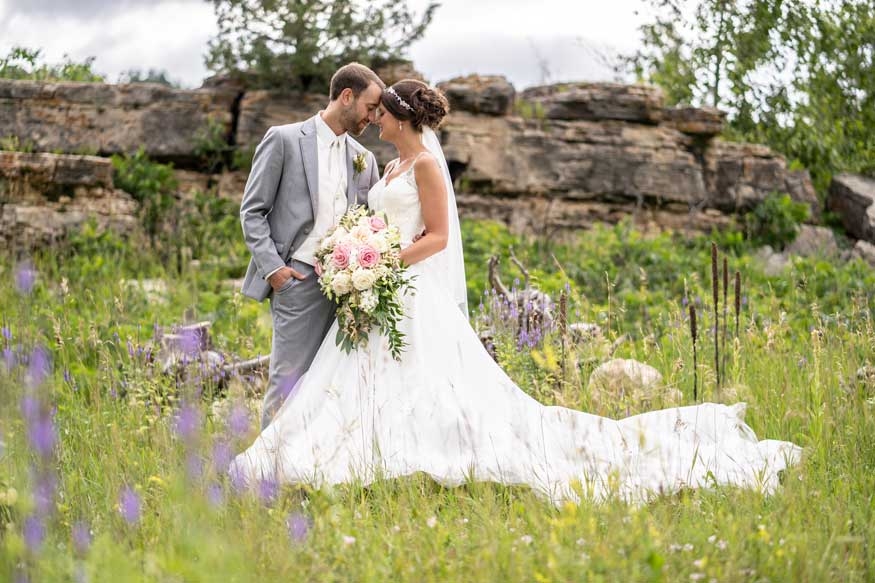 Megan and Zakary Prpich
Wedding Story
The Day We Said Yes
Saturday, July 28th, 2018
Our Love Story
We picked our wedding day to be at the end of July so it wouldn't be a rainy day, so of course it down poured during pictures. We delayed our ceremony about 15 minutes so everyone didn't have to get soaked. This ended up making our day perfect, because as soon as we finished our vows and were pronounced husband and wife, the sun peeked out for this first time that day as we walked down the aisle. The most memorable part for us was the sand ceremony. It didn't go quite as planned, because my mom forgot the funnel for pouring the sand in, making it pretty difficult to aim. We each took turns pouring, because we wanted to layer our colored sands, but it took so long for the sand to drop down we ended up laughing through the whole thing together as we just poured the rest in at once. Then also me messing up on the vows and fumbling over my words had us cracking up as well, only because everyone thought it would for sure be Zak messing up on his . It was the imperfections that made the day perfect and memorable for us. A pretty unique part of our day was when Zak and I were getting some pictures taken of us on a rock over the canyon and Zak heard a rattle. I dismissed it as just a weed whacker in the distance. But as my sister was fixing my dress, Zak noticed a rattle snake inches away from her foot. He calmly let her know that it was there and to move and all was well luckily. Zak's best man came to the rescue and held the rattle snake away with a stick as Ryan Becker carried on with our pictures like there wasn't even a venomous snake there.
flowers Victoria's Garden
makeup Revolution Salon and Spa
music Marek's DJ Services
hair Revolution Salon and Spa
entertainment Marek's DJ Services
rehearsal dinner Minervas
transportation Legendary Limousine
How We Met
Zak and I have known of each other for a long time through school/sports, but started talking after finally officially meeting each other through a mutual friend. We exchanged numbers, but Zak was too shy to ever start talking to me. So after about a month, I finally reached out to him, and the rest is history.

We were at Pelican Lake in Watertown on a little hiking trail next to the lake. At the end of the walk, there is a tree stand that you can walk up to look out over the lake. Zak had set a sign that asked me to marry him right down in front of the stand, so that when I looked down and read it, I would turn around to him on his knee. It didn't go as planned, because I took about ten minutes before I looked down, and according to him, he had to get up off his knee to not ruin the surprise about 20 times. I finally saw it, but my brain didn't really register what it said. I asked him why someone would leave a sign out here? When I turned around, he was on his knee and it finally clicked in my head what the sign said. He had his whole speech ready for me, but said he was more nervous about talking to me than he was talking to my Dad. I also may have been too excited to let him finish it anyways.
Planning Our Day
Wedding planning was not as scary as I thought it would be. We got the big things out of the way first, being the photographer, DJ, and venue, so that we could use the rest of the time to focus on the small things. We started with the big things right after the proposal as well, giving us about a year to plan, which is important because these things get booked fast. The major tools that were most useful to us were The Knot, which helped keep us organized and on top of things, and Pinterest for decorating ideas.

Wedding Hint
Starting as quickly as you can is important, because the more time you have to plan, the better chance you have at booking what you want. There are so many sources out there to get you going and keep you organized and timely. We both are also pretty laid back when it comes to things, so if something didn't quite workout how we wanted, we would figure something else out. You can't stress the little things, and some things are just out of your control and don't go as planned, but no matter what, your day is going to be perfect in your own way, just like our imperfections made our day perfect.

Get Started
Find your perfect local vendors, Plan your perfect wedding, Share your perfect day - with Black Hills Bride.