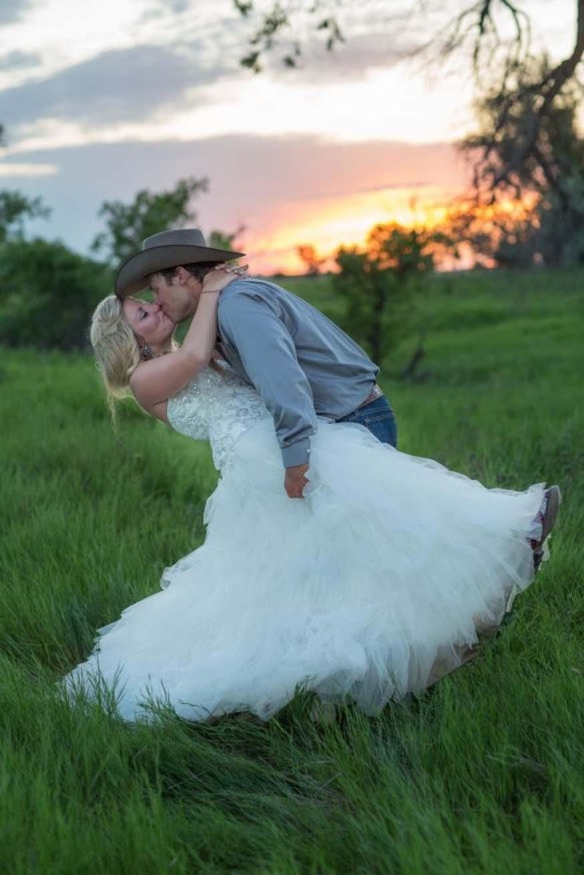 Megan and Matthew Harkless
Wedding Story
The Day We Said Yes
Saturday, June 20th, 2015
Our Love Story
We had a very hectic day and night before, Friday night while we were decorating a tornado came through (thankfully everyone was okay!) Saturday the wedding was supposed to start at 3:30pm, but being an outdoor wedding you never know when it could rain right?! It ended up down-pouring at 3 and didn't stop until 5, we had the wedding at 5 and never looked back! The best part of the day was just seeing our family and friends surrounding us after all we had been through that weekend, thanks to the help of Shade Valley everything turned out perfect and fantastic!
catering The Old West Dutch Oven Catering Co., LLC
How We Met
Matthew and I train horses on the side, we are very involved with each other, and spend 90% of our time together either on or with the horses. Needless to say we hold no secrets from one another!
Planning Our Day
We went with a country rustic theme, Shade Valley is a fantastic spot for this theme! We splurged on our catering, which was done by Old West Dutch Oven, but it was well WORTH it! We had so many compliments about how that was the best wedding food they have ever had!
Wedding Hint
Always remember to breathe, and don't sweat out the small stuff.. At the end of the day all that matters is you and your significant other are married, so what else is there to worry about?!
Get Started
Find your perfect local vendors, Plan your perfect wedding, Share your perfect day - with Black Hills Bride.