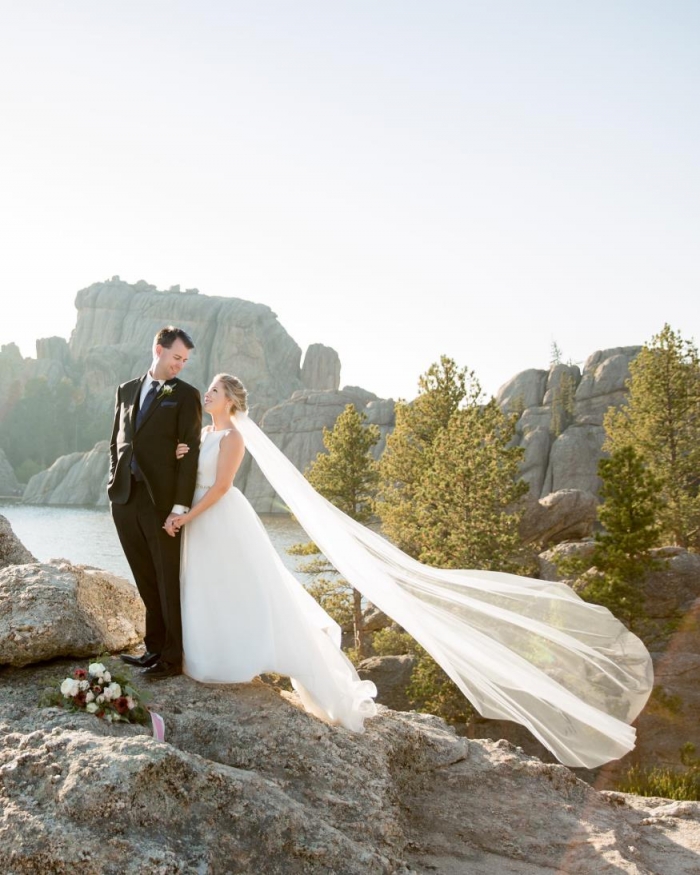 Marcy and David Capesius
Wedding Story
Wedding Theme
Bohemian, Modern
The Day We Said Yes
Sunday, September 2nd, 2018
Our Love Story
Sunday Gulch is one of our favorite places to hike in the continental United States, so we could think of no better place to be married than the breathtaking lawn of Sylvan Lake. We wanted a stylish take on a state park wedding, so we worked with the wonderful folks at Timeless Wedding & Event Rental in Rapid City to achieve a modern look with gold geometric decor and acrylic accents. We also had the pleasure of working with Jenny's Floral to create boho-styled bouquets and centerpieces to complement each element of the decor. Hope Dennis of Timeless Wedding & Event Rental created the most exquisite geode-themed cake and matching cupcakes to tie in the natural beauty of the Black Hills into our contemporary affair. In addition to a first-class meal catered by Custer State Park Resorts, we wanted our guests to have a fun and upbeat experience during our ceremony and reception. Jack from Complete Weddings & Events of the Black Hills provided fantastic audio and DJ services that kept the party going, and Jason and Alex, Complete's videographers, did a fabulous job obtaining video footage, all while making us feel comfortable in the process. Our ceremony was performed by the lovely and highly-recommended Mary Maisey-Ireland. We could not have asked for a more caring minister. She took the time to get to know us and crafted a customized ceremony that fit us perfectly as a couple. Several guests remarked that it was the nicest wedding ceremony they had ever attended. Laura Beth of Studio LB captured all of the beauty, details, and emotions of the day with her unparalleled talent and creativity. We cannot praise her professionalism and warmhearted personality enough, and we plan to come back to the Black Hills for future photo sessions with her in the years to come. Last but certainly not least, I highly recommend the marvelous Tancy Winchell of Elite Hair Design for makeup artistry and bridal hairstyling. Her expertise for making you look your best is unsurpassed, she is a joy to work with, and she will instantly put you at ease as she makes your bridal look into a stunning reality.
Planning Our Day
As I began my research about getting married in the area, I found Black Hills Bride on Instagram. I had been shopping for a wedding planner, but being a minimalist personality who didn't want to feel overwhelmed with pages and pages of documents, I wanted something concise and no-fuss. I was very impressed with the documents that Black Hills Bride provided on their website. The timeline document kept me on track with what decisions I needed to make and when. The budget management sheet gave us a clear picture of where we stood financially for each aspect of the wedding, and the ceremony and reception documents helped us gather all the information we needed up-front to stay organized and create our wedding website. As our wedding date drew near, the payment record sheet was fabulous. It helped us keep track of who we owed, the balance, and the date due. Finally, the to-do checklist helped me to remember all the things I needed to bring as I packed for our wedding and honeymoon. The best part was that all these documents were free, and I was able to create my own folder and customize it to my liking.
Wedding Hint
First tip:
If planning stresses you out and keeps you awake at night, don't be afraid to look at the option of hiring a wedding coordinator. Although we did not originally intend on hiring professionals to take on this role, it was the best investment we made. The benefit of having skilled people oversee the details of the day eliminated almost every stressor for us. I loved that our family members did not have to go through the chaos of setting up or telling people what to do. Instead they could just focus on enjoying themselves. Without reservation I recommend Timeless Wedding & Event's planning team. KC and her crew are warm, caring, and compassionate, and they know weddings top to bottom with their many years of experience in the industry. They also provided everyone in the wedding party a folder with information and a timeline!
Second tip:
Having lost my mom, I realize how fleeting life is and how meaningful it can be to have the ability to go back and see the faces and expressions of loved ones we may lose as the years go by. I highly recommend hiring a wedding videographer, like Jason at Complete Weddings & Events of the Black Hills, to capture such important memories.
Get Started
Find your perfect local vendors, Plan your perfect wedding, Share your perfect day - with Black Hills Bride.