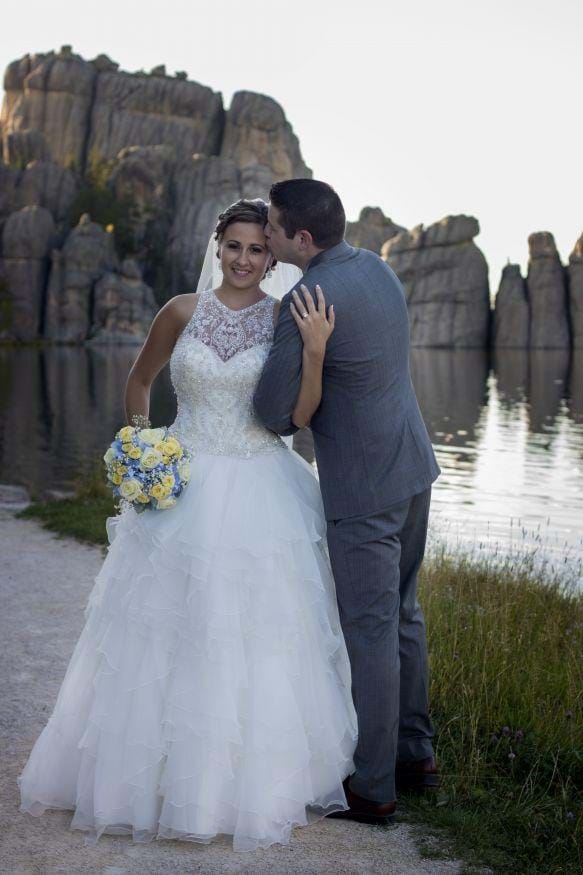 Mandy and George Van Heuvelen
Wedding Story
The Day We Said Yes
Saturday, September 5th, 2015
Our Love Story
The favorite part of my day was the ceremony because that is what it is all really about…and once it was over I was able to breath, relax, and have a blast at the reception. It was also really awesome to be surrounded by family and friends that I don't get to see very often, the whole day was amazing!
How We Met
We both grew up in Rapid City and met in high school. After college Mandy took a job in Washington, D.C. and they decided to make a big move to the East Coast. One of the things they enjoy doing is going to wineries in the Virginia countryside which is where the groom proposed after six years together.
Planning Our Day
The theme was a little rustic, lace, and pearls. We got most of our decorations at antique shops in Rapid City with milk glass and mason jars as centerpieces. The bridesmaid dresses were from Audra's and added the perfect compliment to the theme, I absolutely loved the colors and look. Victoria's Garden did an amazing job on the flowers which brought everything together. The setting at Sylvan Lake was exactly what we wanted, to be surrounded in the beauty of the Black Hills, something we miss dearly. We definitely splurged on the venue but it was perfect, especially for the size of the wedding, it was everything we wanted and more.
Wedding Hint
It is difficult to stay under budget, be flexible, and don't stress too much. I had a total nightmare the with the first dress I purchased in Virginia, the company went bankrupt, took my money, and I found out with only 6 months to spare that I didn't have a dress. It was totally devastating but I was able to get the same dress from a different vendor. It definitely put a damper on everything in the planning process but I didn't want that incident to ruin everything…I still stressed a little too much about it when in the end I had the dress and wedding that I wanted.
Get Started
Find your perfect local vendors, Plan your perfect wedding, Share your perfect day - with Black Hills Bride.