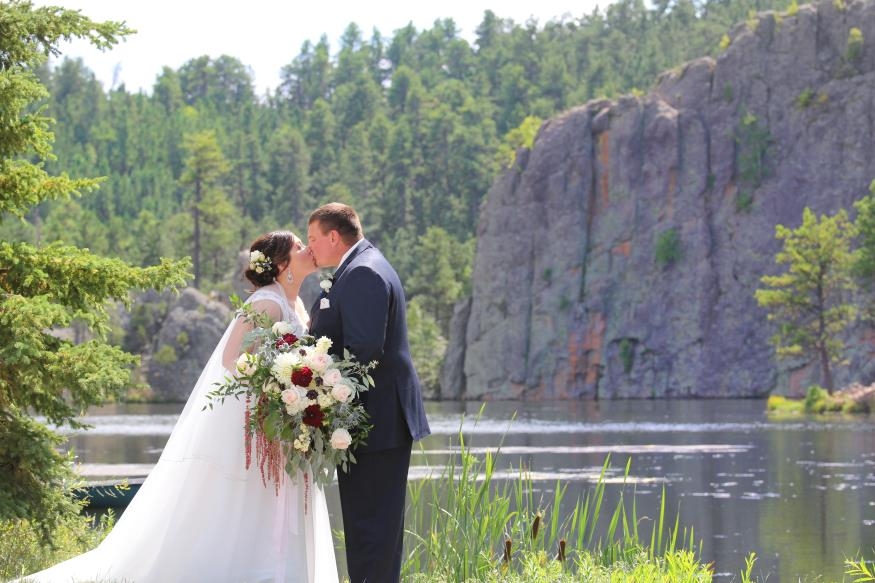 Lindsey and Anthony Poeppel
Wedding Story
Wedding Theme
Romantic, Whimsical
The Day We Said Yes
Saturday, August 25th, 2018
Our Love Story
Our wedding party stayed together in the Reunion Cabin down at the Park. The boys went golfing early in the morning, while the girls got pampered. Buffalo were roaming the open field and it was a gorgeous day out! We took pictures down by the rumbling stream for the first look and drove the short drive to Legion Lake for a few additional pictures just the groom and I. The ceremony was at 4pm and that is when we felt the first rain drops and a storm brewing. Thankfully, the ceremony lasted 15 minutes as the entire wedding party and guests took off running for the Pavilion (reception site) at the mention of 'I do'! The reception went perfectly once the storm passed and we danced the night away!
How We Met
We met through mutual friends in college. I didn't want anything to do with Anthony, being a college football player, so I warded him off for about 6 years until our flame was rekindled over a New Years Eve gathering in Deadwood.
Planning Our Day
We wanted a semi-destination wedding and after perusing the internet on a night shift, I found Custer State Park (CSP) Pavilion & Lovers Leap. We looked at photos and had thought about a date when farming slowed down in late summer…we called to see if the date was open, and it was! We booked on the spot without even seeing the venue. Eventually, we made it out to the Park and we were so excited for the big day! From there, I asked for recommendations from our wedding consultant at CSP and hired Jenny's Floral, Table 4 Décor, and Tiki Man Entertainment solely off of our his recommendations. The rest of the planning happened rather easily as I started about 10 months prior and had a list to cross off every month leading up to the big day. I wanted to enjoy the process so I wanted to break up my "duties." Overall, I am sad that the day is over because I enjoyed the design process so much!
Wedding Hint
Coming from a budgeter, break up your spending with each paycheck so you aren't hit with a big bill the day of! It was so nice not having a whopping bill to pay off come Sunday after the wedding. I liked having it all paid off by the time the wedding day rolled around!
Get Started
Find your perfect local vendors, Plan your perfect wedding, Share your perfect day - with Black Hills Bride.