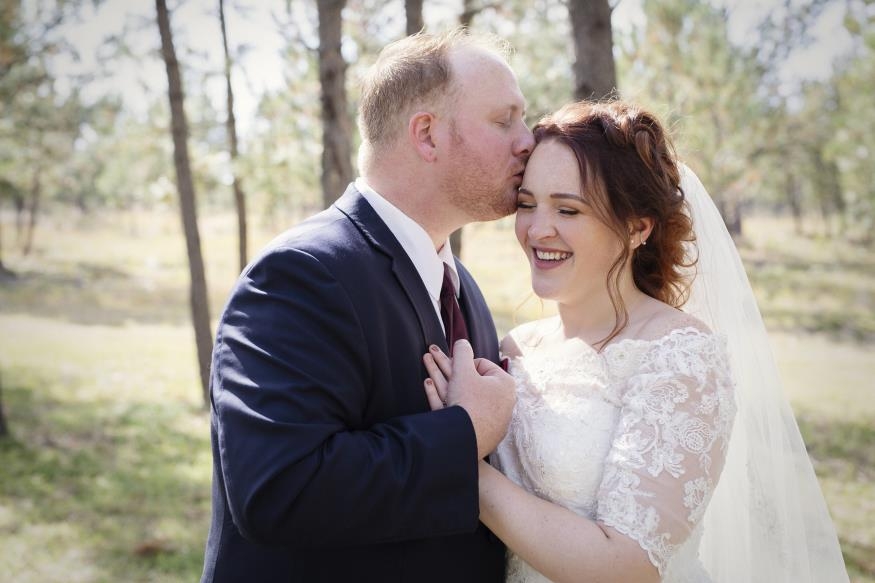 Kristyn and Gunner Hanzel
Wedding Story
Wedding Theme
DIY, Romantic, Rustic
The Day We Said Yes
Saturday, September 22nd, 2018
Our Love Story
Our wedding day went by so incredibly quickly! We rented the cabin on the venue property for the night before and the night of the wedding for the wedding party and ourselves. The girls and I spent the morning hanging out, drinking mimosas, and having our hair and makeup styled by Infinity Salon. Gunner and the groomsmen spent their morning and early afternoon hanging out in the cabin, playing Super Nintendo and pool. We chose to have a first look before the wedding. I loved having that private moment between the two of us! It also allowed us to get a majority of our pictures completed before the wedding even began, which let us get to the reception much sooner! Our ceremony was just the right length and beautiful. Our high school English/Technical Theatre teacher and friend, Joey Lore, was our officiant, making our day that much more special! We were surrounded by so much love from family and friends that day! In the end, it was the most perfect day of our lives so far!
photos by Mist and Moonlight Photography
How We Met
Fresh out of basic training, Gunner went to Joe's Place Bar and Grill with his buddy Parker (Groomsman). Joe's had a contest that night: whoever told the funniest joke won tickets to any concert at the Buffalo Chip that they wanted to see. Gunner told the best joke, which to this day, he has never repeated, and won tickets. The next day, he told his friend Kyleen (Maid of Honor) that he had won tickets. She mentioned she was going to see Journey with me later in the week and suggested he go to the Chip with us.
Gunner and Parker met up with us that night at the Chip and we had a fantastic time! We had previously met each other in passing during high school theatre, but after this night we had a chance to reconnect. A few weeks later Gunner asked me on a "friend date" (he totally wanted it to be a real date, but he was trying to be cool about it) and I agreed.
Together we hiked to Hippie Hole in the late evening. After hours and hours of talking, laughing, and reminiscing, we realized we had lost track of time, and it was now close to midnight and pitch black out. Gunner started to lead the way up the steep trail of Hippie Hole back to the car. Not long after we got started back up, he stopped, hesitantly looked around, and went where no man has gone before; he admitted OUT LOUD that we were lost. In the middle of the woods. With no cell service. And only head lamps for light. After half an hour or so of stumbling around in the dark, we found our way back to the car. Needless to say, it was a memorable first "friend date".
Planning Our Day
Gunner proposed to me on Valentines Day 2017. We were fortunate to have a lot of time to plan our wedding just the way we wanted it to be, a whole 19 months! I almost immediately turned to my Pinterest board and went NUTS! Many of our decorations were DIY crafted by my parents and myself. The bouquets, the gold tipped pine cones, the mason jar flowers, and hand crafted/stained/painted signs were just a few projects we worked on over a year and a half!
Wedding Hint
Don't leave yourself too many projects! DIY wedding projects are so much fun! However, if you take on too many projects, you can begin to feel overwhelmed and even run out of time to finish everything! I ended up with a few half completed projects that are still taking up some space in our garage (sorry honey!). If you really want to do DIY, choose just a couple meaningful projects for yourself to complete or delegate small projects to crafty family members and friends who want to help out!
Get Started
Find your perfect local vendors, Plan your perfect wedding, Share your perfect day - with Black Hills Bride.