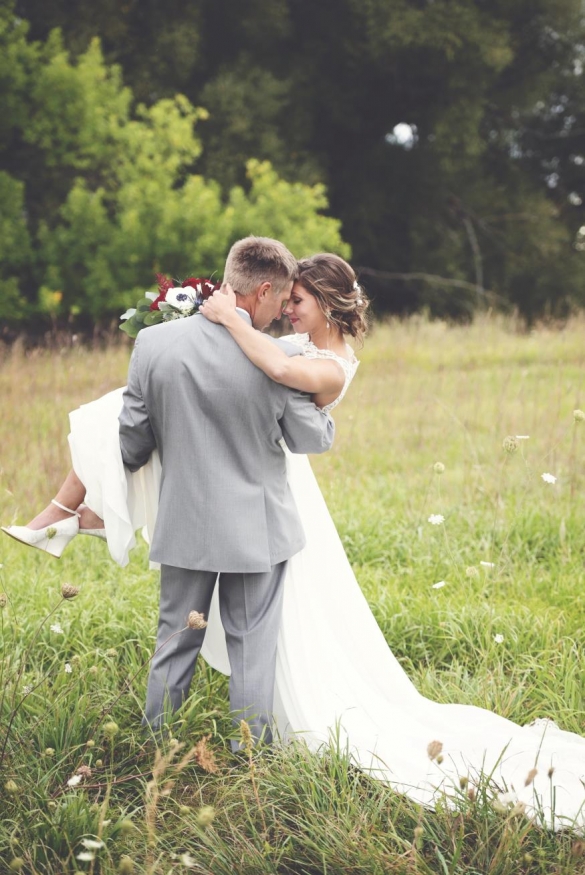 Kelsey and Till Olson
Wedding Story
Wedding Theme
Nautical, Romantic, Rustic
The Day We Said Yes
Saturday, September 21st, 2019
Our Love Story
We got married on 9/21/2019. Many friends and family traveled from all over to celebrate with us- from Wisconsin, Arizona, Georgia, and Tennessee- just to name a few. It was cloudy, chilly, and sprinkling in the morning but the rain stopped and sun came out just in time for our ceremony to start. Everything fell into place perfectly and worked out better than we could have planned. We just stayed relaxed and enjoyed each second. It was the most magical day that we will remember and cherish for the rest of our lives.
makeup Mystique Edge Day Spa & Salon
hair Mystique Edge Day Spa & Salon
dress preservation Heritage Dry Cleaners
How We Met
Kelsey was in her third year of physical therapy school and got placed in Aberdeen, South Dakota for one of her clinical rotations in September 2016. Till was a senior at Northern State University at the time. Kelsey ended up meeting a few new friends who invited her out with them and she met Till at the college bar in Aberdeen called "The Zoo." Till took Kelsey out to dinner and they found out they both liked the Green Bay Packers and it was love at first sight 😊
Planning Our Day
The best gift I received was as wedding planner from one of my best friends. It gave me dates and a time frame of when things should be done. It was great to keep everything organized and in one place. We actually didn't hire a wedding planner or decorator. We planned everything by ourselves with the help of our family of course. We made almost all of our wedding decorations. We were lucky to be able to set up at the Venue early and Josh and Ali Besler at the Cadillac Ranch were so much help! It was ALOT of work but it definitely paid off.
Wedding Hint
Don't be afraid to ask your husbands and family/friends for help! My bridesmaids and personal attendant helped me so much and the wedding wouldn't of gone smoothly without them. I usually like to be in control so learning to let go a little really helped. Your wedding day is one of the most important days of your life so stay relaxed and enjoy every second.
Get Started
Find your perfect local vendors, Plan your perfect wedding, Share your perfect day - with Black Hills Bride.