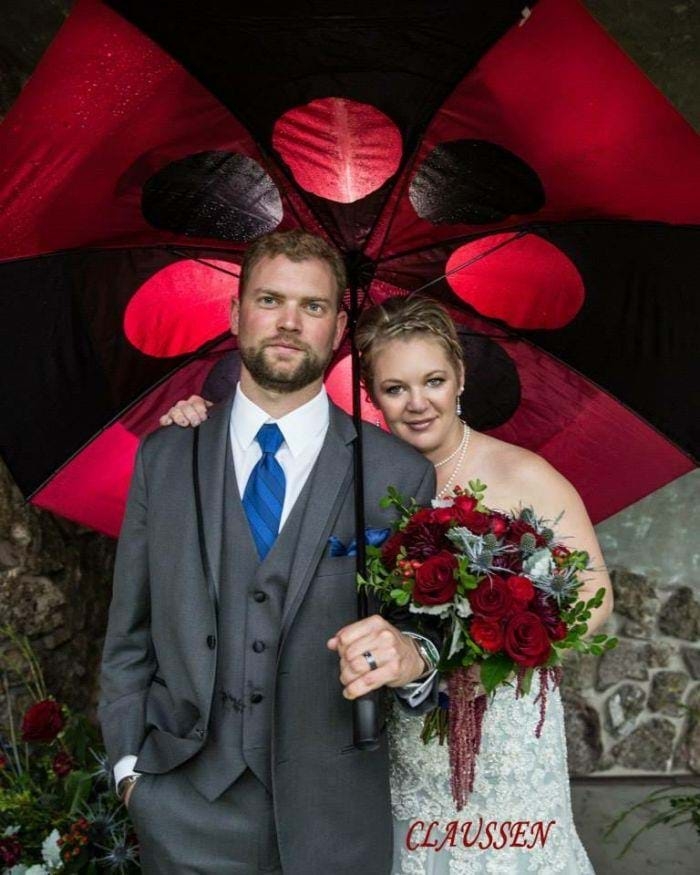 Kelsey and Matthew McKie
Wedding Story
The Day We Said Yes
Saturday, June 6th, 2015
Our Love Story
Our wedding was centered around our two beautiful children who are the center of our world, Maddox who is two and Kora who was 7 months. From our readings to song selections to unity ceremony, it was all planned around them.
One of our readings was from Winnie the Pooh, and some of the music selection was from Disney movies. Our favorite parts of our ceremony were our two kids. At the beginning Maddox insisted on being held by his dad for the first 10 minutes, not caring there were 200 people watching him. The second highlight, instead of a unity candle, we baptized our baby girl Kora, made it a family affair with Grandparents and Godparents
Our other highlight was stopping to watch the Triple Crown at Kelly's on the way to the ceremony. It was a lucky day, pouring rain and the Triple Crown!
cake Star Spangled Batter a Cupcakery
transportation Legendary Limousine
How We Met
Everything that we do, is centered around our two kids, who are our world! Matt and our son Maddox, both proposed to me on my favorite holiday, the 4th of July! He was only 20 months at the time, so took some practicing the night before, with out me knowing of course!
Planning Our Day
We splurged on my dress and photographer. Two things that are a must. Your dress is something you will forever cherish. The pictures will last a lifetime!
Wedding Hint
Relax and enjoy the day, all that matters, is at the end of the day, you are married! If kids are involved, just go with it, they will make the day even more special!
Get Started
Find your perfect local vendors, Plan your perfect wedding, Share your perfect day - with Black Hills Bride.