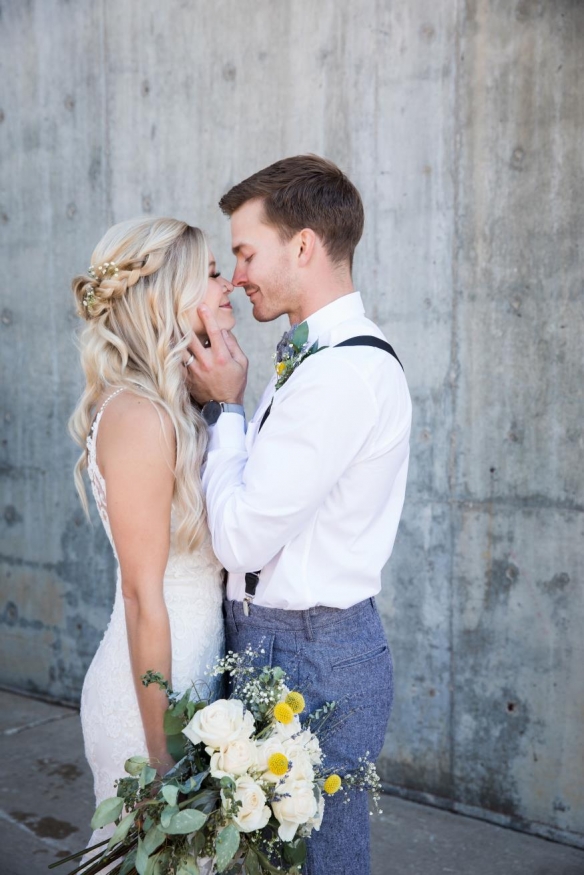 Karlie and Justin Warne
Wedding Story
Wedding Theme
Bohemian, DIY, Natural
The Day We Said Yes
Saturday, May 25th, 2019
Our Love Story
Justin and I got married at Terry Peak Ski Area on Saturday, May 25th.
Although we currently live in Arizona, Justin and I are both originally from South Dakota- me from Spearfish and he from Sioux Falls- so we knew we wanted an authentic Black Hills wedding (west is best, am I right?).
In classic Black Hills fashion Mother Nature decided to torment us all week prior to the wedding. In the days leading up the wedding we had 18inches of snow and rain. Family and friends from out of town were calling us wondering if they should pack their snow boots (seriously). At that point the only thing we could do was hope and pray that the weather would hold out so we could have our ceremony outside as originally planned.
Saturday came and the weather could. not. have. been. more. perfect. The sun was shining, the wind was gone, the ice melted from the deck for the ceremony, and although the snow was still present it made the ski slope look absolutely beautiful.
It was also important to Justin and I that we add our own personal touches to the wedding. We love DIY projects. Justin made the arch for our ceremony and a sign that hung from our head table during the reception. I, along with some family and friends, made all of the flower bouquets, corsages, boutonnieres, and centerpieces. We also bought a lot of our centerpieces and signs from Goodwill and up-cycled them. It was fun to be able to add our personality to the decor and is extra special looking back on pictures knowing we put so much thought, care and time into the details.
Overall, our day was absolutely perfect. We were surrounded by our closest family and friends in our most favorite place. Love and joy was abundant (and snow).
photos by: Taylored Photo Memories
cake Star Spangled Batter a Cupcakery
music JDProductions
entertainment JDProductions
How We Met
Justin and I met during our junior year of college at Augustana University in Sioux Falls. He had just transferred and was playing baseball at Augie. We had a lot of mutual friends and continued to run into each other around campus and out on the weekends. What started as a friendship quickly grew into much more.
After just over a year of being together we made the crazy decision to uproot and move to Arizona. My best friend and I chased our childhood dream to open a coffee shop together, and Justin was our biggest supporter. From the moment we decided to pack up our lives and everything we knew to start completely over, I knew he was the man I was going to marry.
Wedding Hint
Don't sweat the small stuff. Try to relax and enjoy every minute of the process and of the day- even the crazy things out of your control. They might just become some of your favorite memories to look back on.
Take pictures along the way. It is so fun to look back on moments that didn't seem that important at the time, but are now some of your most cherished photos. For me those pictures are from asking my sister to be my maid of honor and dress shopping with my grandma, mom, sister, and best friend.
Set aside a few minutes after the ceremony for just the two of you, away from everyone else. Our photographer made this happen for us and it was one of my favorite parts of the day. It was so special to just revel in the beauty of being OFFICIALLY married.
Get Started
Find your perfect local vendors, Plan your perfect wedding, Share your perfect day - with Black Hills Bride.