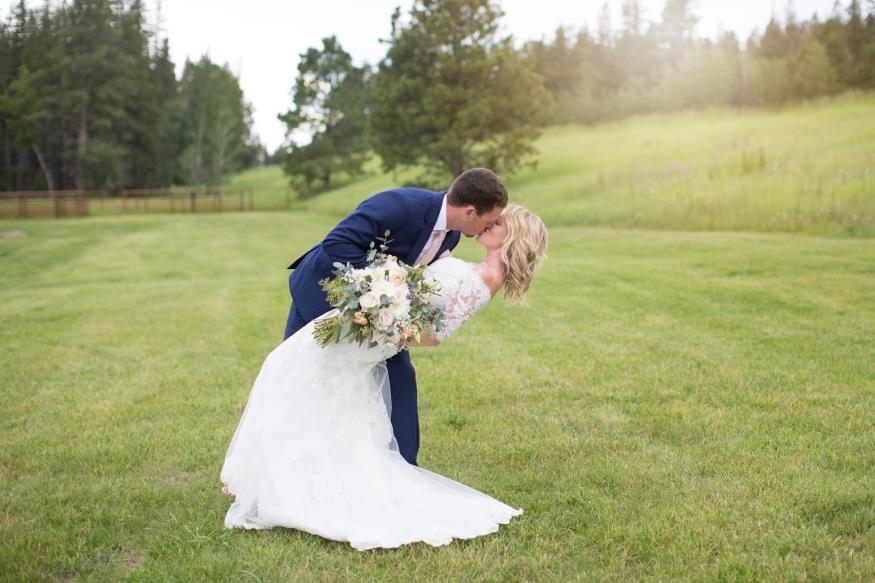 Kari and Cody Nielsen
Wedding Story
The Day We Said Yes
Saturday, July 29th, 2017
Our Love Story
Cody and I couldn't have asked for or planned for a more perfect day. Our bridal party was a blast, the weather was beautiful, and having all our family in one place was irreplaceable. Best of all, Cody and I just got to relax and enjoy every moment. We have found a once in a lifetime love, and our day was a once in a lifetime celebration of that. The entire day was truly a gift in itself, and one we will cherish for the rest of our lives.
How We Met
Cody and I met through mutual friends a few years back. They saw the potential for a relationship before we did, and we couldn't be more thankful for that. They were right!
Planning Our Day
As most girls do, I've been dreaming of my wedding day practically my whole life. Which meant I had a lot of details already in mind before Cody popped the question. We had the big things booked within the first week, and got to enjoy picking out all the little things in the months to come. And in the moments when it did get stressful, I was lucky enough to have my photographer and friend, Riley Winter, my bridesmaids, and my mom to bounce ideas off and get a second opinion.
Wedding Hint
Relax! Enjoy your day. Everyone says it flies by, and that couldn't be more true. But you can no longer control the little details, so just be present and take it all in. It is truly an experience of a lifetime, and one you won't get again.
Hire a day of wedding coordinator. KC Bunch and her team from Esteemed Events did an amazing job at making sure the flow of the day was perfect and handled any issue that arose. It makes the day that much more relaxing knowing someone is in charge who isn't you.
Get Started
Find your perfect local vendors, Plan your perfect wedding, Share your perfect day - with Black Hills Bride.