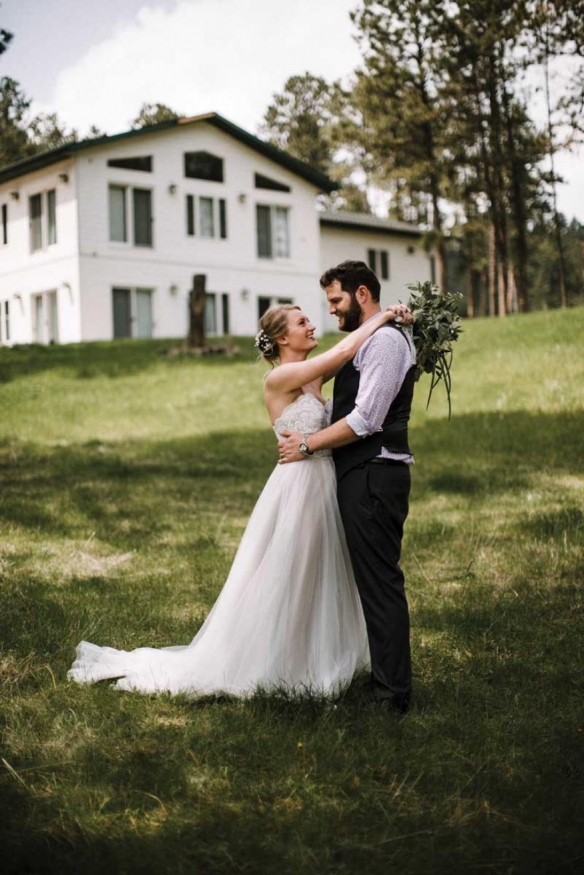 Kaitlyn and Carter Blend
Wedding Story
The Day We Said Yes
Saturday, June 1st, 2019
Our Love Story
Carter and Katilyn were married on June 1, 2019, at Prairie Berry Winery in Hill City. They love being in the Black Hills and enjoying the beauty that surrounds the area. Prairie Berry was the only venue they toured, but they knew right away it was perfect. Because they love hosting people and wanted to provide an experience guests would not receive anywhere else, they added a lot of fun twists to their wedding. At the reception, guests found a key waiting for them at their table. In keeping with the winery/brewery theme, the key doubled as a bottle opener and featured a label with a special message thanking them for being there and letting them know they were loved. The reception started out with a trivia game where guests answered 20 random questions about the bride and groom. After the answers were revealed, the winner received a bottle of wine. After dinner, there were two rounds of bingo, with more bottles of wine given away to the winners. Since a lot of their friends were into singing and theater, instead of a dance, the couple had a full night of karaoke that felt more like a live concert with all the wonderful and talented singers in attendance. At the end of the evening, Carter and Kaitlyn were the last ones in the venue, so they went outside and danced under the stars to the song that played during their first dance, just the two of them with nobody else watching.
How We Met
Carter and Kaitlyn met in 2015 at Badlands Ministries, a camp in Medora, North Dakota. Katilyn was a new summer camp counselor and because Carter had previously worked at camp, he came to help during staff training. As the counselors were getting ready, Kaitlyn walked into the room and found everybody surrounding Carter, laughing hysterically. She wanted to get to know him, so she introduced herself, and from that moment on everything conspired to be sure they were together—including the counselors and even the executive director of the camp. They kept in contact after camp ended, and randomly ran into one another again at a gas station in Buffalo, South Dakota on Kaitlyn's birthday. At that moment they believed Fate was letting them know they belonged together and decided to start "running into" one another on purpose!
Planning Our Day
They invited 100 of their favorite people and everybody booked cabins for the whole weekend. Kaitlyn and Carter wanted it not to be just a wedding for them, but a vacation getaway for all their family and friends, giving them an opportunity to spend time with one another.
Wedding Hint
Be true to yourselves as a couple. Know what is "you" and follow the path that makes your wedding feel like a celebration of your love. Work together! We always planned the wedding as a couple and never let the other feel alone or frustrated in the process. Do not stress about any portion of it. It sounds like a lot to get a budget, guest list, meal, decorations, and everything else together, but it doesn't have to be. Do not forget to slow down and remember the whole purpose of a wedding. If at the end of the day you two said your vows and meant them, that is all that is needed for the "perfect wedding".
Get Started
Find your perfect local vendors, Plan your perfect wedding, Share your perfect day - with Black Hills Bride.