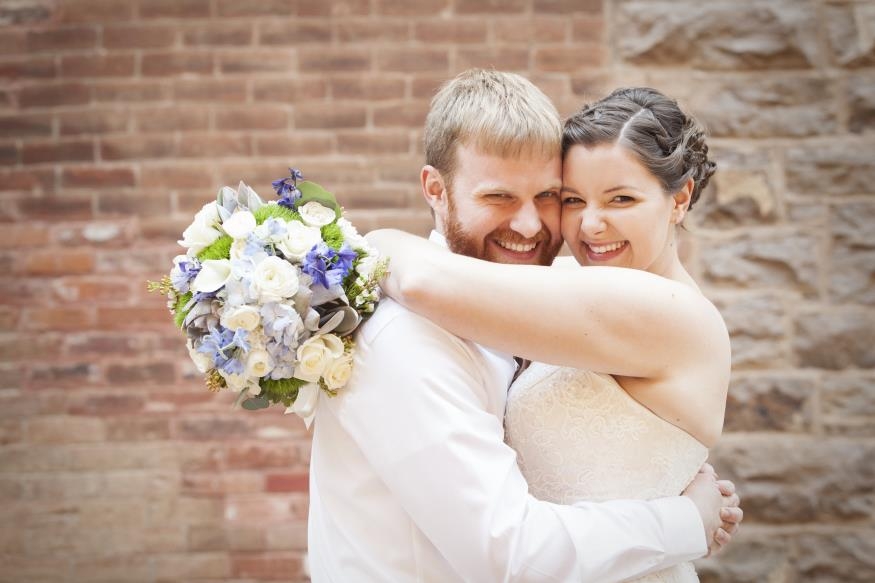 Joran and Michael Stetson
Wedding Story
Wedding Theme
Natural, Romantic, Vintage
The Day We Said Yes
Saturday, June 25th, 2016
Our Love Story
We were married at my parent's cabin in Galena, SD in a meadow next to the creek. My dad and husband built the pergola we were married under and my mother built the benches out of old pallets for the guests to sit on. All of our family came in from Minnesota, North Dakota, Nebraska, and Michigan to celebrate the day with us. We don't have electricity at the cabin so we had a harpist play all the music and the pastor from the church I grew up with officiated. We chose to do a twist on our unity sand and actually used glass instead that was then blown into a bowl at Mind Blown Studio in Deadwood across the street from our venue. We may have been 5 minutes late to our own wedding but nobody seemed to notice since it was a beautiful 70 degrees outside and the sun wasn't too hot (unfortunately because Crow Peak was on fire and the smoke drifted over the whole area). My husband then drove us to the Martin & Mason Hotel in a topless '87 Jeep Wrangler where we had our reception in the beautifully restored 1898 Ballroom and enjoyed a great meal with our family and friends, which included the best cake I have ever tasted beautifully decorated by one of my bridesmaids. After dancing the evening away and grabbing a few Chubby Chipmunk truffles that we boxed for the wedding favors we walked down to the Saloon 10 where we finished the night before heading back to the Martin & Mason Hotel.
How We Met
Michael and I met online and on our first date we planned to have lunch but ended up spending the next 6 hours together walking around Spearfish, SD and browsing the local antique shops. We shared dinner and a drink and still laugh about our 6 hour first date.
Planning Our Day
We did a lot of the early part of our planning on the 8+ hour car rides to visit family in Nebraska, Minnesota, and North Dakota. Mike was really great in helping me plan. He helped with a lot of the research and took care of the hotels, cake, and helped me pick out the invitations, save the dates, and thank you cards.
Wedding Hint
Always have a backup plan! We went through 2 officiants and 3 hair stylists before it was all said and done.
If the date isn't really important, pick your venue first, we were able to get our dream venue by working around their schedule as well as the schedule of Deadwood in order to book the rooms we needed for our guests.
Get Started
Find your perfect local vendors, Plan your perfect wedding, Share your perfect day - with Black Hills Bride.