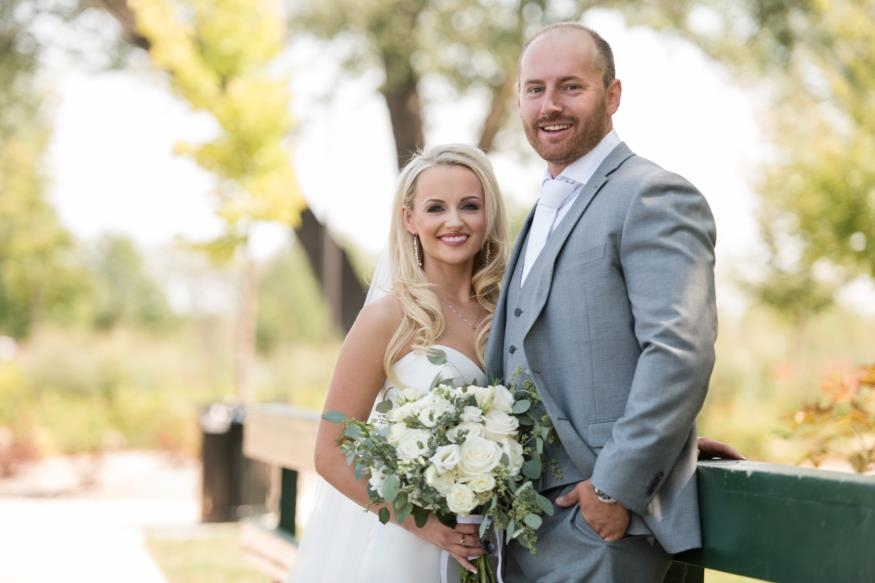 Jessica and Derek Oster
Wedding Story
Wedding Theme
DIY, Romantic
The Day We Said Yes
Saturday, September 1st, 2018
Our Love Story
The girls met in the morning and got ready for the day at the Holiday Inn in the presidential suite. It was such a convenient area to get ready because Memorial Park is close by and a perfect beautiful place to do the first look. It was a bit windy that day, but Amy from Legacy Photo and Design did such a wonderful job capturing the moments that my hair wasn't in my face or my veil wasn't flying off 😊. Amy told me while she was driving early in the morning of my wedding, she saw the most beautiful sunrise and knew that it was for Derek and me. I just know that was my mom and dad shining down on the start of such an amazing day. We got married at my childhood church, Our Lady of the Black Hills, in Piedmont, SD. It is a beautiful church nestled in the evergreens of the Black Hills. The ceremony was beautiful, traditional, and had a few funny moments like when Derek went in for the kiss before Father Andrzej announced us as husband and wife. Lots of laughs were shared in that memorable moment! The wedding party then was transported by Legendary Limousine's party bus from the church to a couple other areas for pictures and we ended up downtown at Murphy's for a quick beverage before we headed to the Holiday Inn for the grand entrance. The reception could not have been any more perfect. The venue was beautiful, the food was great, service was excellent, and Jeremy, with Express Mobile Music, kept the party going all night and I don't think there was a time the dance floor was not full. It was truly amazing seeing all of our family and friends having such a fun time celebrating our "best day ever"!
transportation Legendary Limousine
How We Met
Derek and I met while we both attended Rapid City Central High School in 2006. Derek was a junior and I was a sophomore at the time. We would chat on MSN Messenger (before the Snapchat and texting days) and on the phone (probably a flip phone) for hours every day until we finally met up at a mutual friend's house for the first time. We ended up going to different colleges and distance drove us apart for a couple years, but time brought us back together and we both know it was/is truly meant to be. Derek and I have spent 90 months of the 12 years we have been together long distance, so we know if we can make it through that, we can truly make it through anything!
Planning Our Day
Derek and I had a long engagement so that helped spread out the planning. Our original plan was to get married the year prior, but between me finishing up graduate school and my mom's battle with leukemia and graft vs. host disease, we decided to wait another year. We knew we wanted to get married in Rapid City since that is where both of our families live. I didn't even know where to begin planning since I lived in a different town going to grad school at the time, so my friend from Rapid City sent me the Black Hills Bride magazine in the mail to get some ideas. I used the checklist they have in it to map out my planning which was extremely helpful. The first thing I booked was my photographer and videographers. I know photographers always book so far out and I really wanted Amy from Legacy Photo and Design to shoot my wedding so as soon as she said she had the date I had in mind available, I knew it was official. The first thing we did were the engagement photos to use for the save the dates. Derek and I always watch the sunrise on every vacation we take, so I asked Amy if a sunrise engagement session would be possible and it was absolutely perfect. The next thing we booked was the reception venue. We both have large families and a big group of mutual friends since we have been together for so long, so we knew we needed a venue that would hold 250+ guests which narrowed it down quite a bit. Derek and I called around to the different venues in town to check availability, and we landed on Holiday Inn. It was the perfect size and had a great selection of various options for food, drinks, set-up, and not to mention it is absolutely beautiful. The event coordinator, Deb, was extremely helpful and friendly to work with and she made everything very easy for us. Derek and I then picked out our wedding parties which was a lot harder than anticipated. We both have so many wonderful friends and family, hence why we both ended up with 8 on each side! The more the merrier! Deciding on my dress was a lot harder than I thought it would be as well. I tried on so many beautiful dresses. I told every boutique my budget and didn't even look at any dresses that were out of my budget so I wouldn't be tempted. Derek's aunt was with me the day I found "the dress". It was an emotional moment because they kept calling her "Mom" but she truly was such a blessing to have with me that day and my mom definitely was with us in spirit. My brother-in-law is a wedding DJ so that was an easy choice for Derek and me to make because we knew it would be so much more personable having family as the DJ. My aunt is also a retired wedding cake designer. She was more than happy to create our beautiful wedding cake and it was so special to me to again, have family involved in something so meaningful. I was going to make all of the bouquets and boutonnieres to save some money, but I decided to have Victoria's Garden design the bride and bridesmaid bouquets and I am so glad I did as they turned out absolutely gorgeous and it was way less stressful! I knew I wanted fresh flowers for the centerpieces and ceremony aisles so I ended up buying flowers in bulk from Sam's Club along with the boutonnieres and corsages. A couple nights before the wedding, a few of my bridesmaids and I made all of the flower arrangements I used as reception table centerpieces which turned out even better than I could have imagined. It saved a lot of money and we got a lot of complements on them! Throughout the planning process I kept thinking to myself, "Wow, I really hope this all comes together." The days leading up to and the day of the wedding, it was so fun to see it finally come to life and it was everything I could have imagined and more. My sister helped me so much throughout the entire planning process and was truly my rock through it all. I didn't have a wedding planner so it was a godsend have her support.
Wedding Hint
Decide at the beginning a budget and list out areas you are okay with splurging on and where you want to save. Derek and I knew the reception would be the largest cost so I tried to save money on other things. With the long engagement, I was able to buy different decorations from other bride's after their weddings, wait for items I wanted to go on sale in stores, or buy decorations wholesale when I could. I tried to do as much DIY stuff as possible—the invitations, centerpieces, decorations etc. I didn't hire a decorator so the day before, our friends and family helped Derek and I set up the entire reception area. Everybody really enjoyed coming together to be involved in something so special. Definitely take people up whenever they ask what they can help you with—these are the things you need them for! The day of, do not stress. There will be things that get missed or that don't go exactly by the itinerary, but just shrug it off and go with the flow. I put on some lavender scented lotion in the morning, drank some coffee, and just relaxed and tried to keep a relaxed mindset the entire day. It is your big day, the one you planned for months—try to slow down and just take it all in. It seriously goes by in a blink of an eye!
Get Started
Find your perfect local vendors, Plan your perfect wedding, Share your perfect day - with Black Hills Bride.