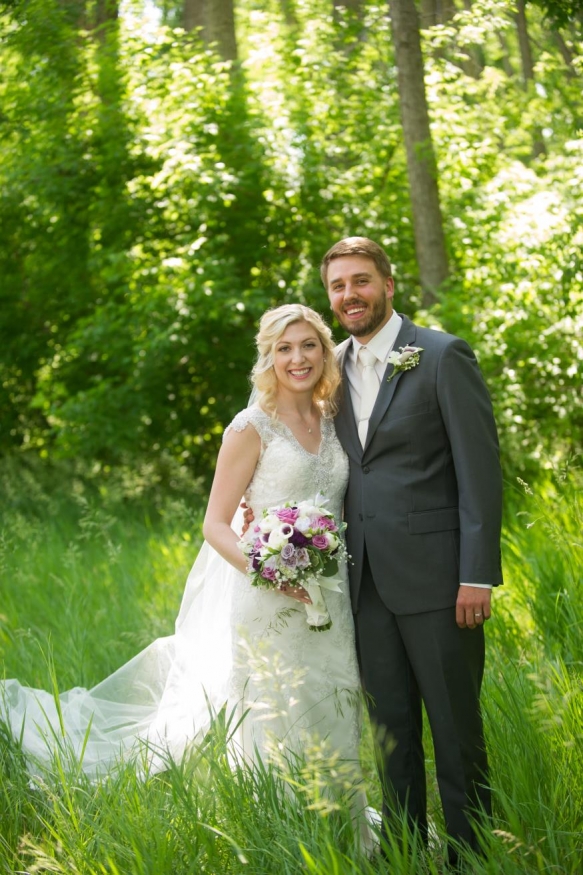 Jessica and Andrew Warren
Wedding Story
The Day We Said Yes
Friday, June 17th, 2016
Our Love Story
Andrew and I were anxious about the possibility of a very hot and humid day, but we were pleasantly surprised to wake up to nothing short of a perfect summer day! I admit I was already somewhat nervous about the day; not about marrying my best friend, but about how everything else would flow together that day. With the reassurance of some of my closest friends and extremely wonderful photographer and videographer, the day went off without a hitch. I choose to get ready at the church where I was to be married. The church was so special to me because it was the church where I was baptized and grew up in getting to know my faith. It is also very simple and elegant. I decided to wear, as many brides do, something borrowed, blue, old and new. My something old also happened to be my favorite detail of the wedding because it was my grandmother's handkerchief. My grandmother was so happy that she was able to see her only granddaughter get married. I was in the bridal suite getting ready and already had butterflies, but when I saw Andrew, my fiancé arrive in the parking lot, there were even more. After getting ready, we decided to go to Canyon Lake to see each other for the first time. By the way our photographer shot us, someone wouldn't even know we were in the middle of Rapid City! I wore a cathedral style veil, and the little bit of wind that day helped confirm my decision to wear that style of veil. Every girl has a vision of what she will look like on her big day and I believe I got exactly that, and more. The ceremony began and I walked down the aisle with my dad to my favorite song, Canon in D. As everyone says, however, the ceremony didn't seem to last as long as it really was. We stopped for a few sunset pictures before arriving at the reception at the Alex Johnson Hotel. We chose the Alex Johnson because of the history and how beautiful it is from the moment you walk in and go upstairs to the ballroom. The detail that surprised me the most was the elegance of our first dance, as Andrew is not known for his dancing skills. I found out later that his mother helped teach him to dance that morning, and he pulled off a wonderful dance to Future Days by Pearl Jam. The night went by very quickly, and everyone had a wonderful time.
music PowerHouse Dance DJ's & Sound Production
entertainment PowerHouse Dance DJ's & Sound Production
How We Met
Andrew and I went to the same high school, we even were some of the same classes but never talked. It wasn't until my sophomore year of college that I got a Facebook message from Andrew. I made trips back to Rapid City and got to know him on the weekends I was home. That following summer he asked me out. I was fortunate to be able to pursue my nursing career though South Dakota State University at the Rapid City Campus while he went to South Dakota School Of Mines for Engineering.
Planning Our Day
I didn't really start planning our wedding until I was finished with Nursing boards. I did not hire a wedding planner but leaned on my mother and some close friends and my photographer and DJ to help plan our big day. Andrew was included after the initial idea, and was very good at going with the flow.
Wedding Hint
Take the advice you want and if it's helpful go with it, and if it's something you don't care for, don't sweat it! This is your big day and try to be as stress free as you can. Find vendors that you can get along with and be yourself around, there is nothing worse then not clicking and being miserable, luckily my vendors were wonderful to work with!
Get Started
Find your perfect local vendors, Plan your perfect wedding, Share your perfect day - with Black Hills Bride.