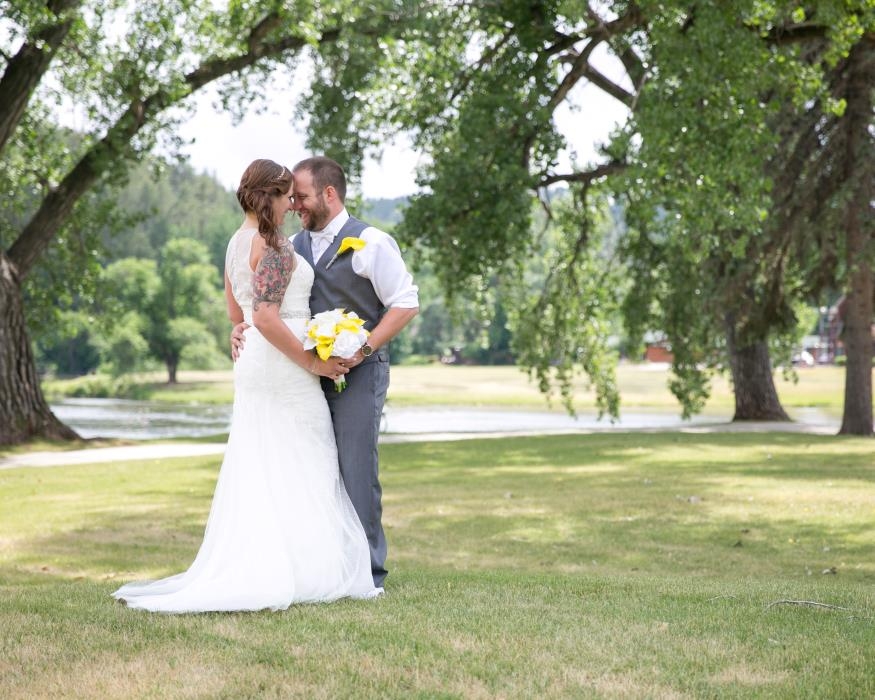 Jennifer and Mike Leonardo
Wedding Story
The Day We Said Yes
Friday, July 1st, 2016
Our Love Story
Although we live in Des Moines, IA we wanted to get married back in our home town. Choosing a venue in Rapid City was easy as I worked at Black Hills Receptions as my first job in the summer of my sophomore year of high school. We visited the venue and both decided this is the place we wanted. Its a beautiful venue in the heart of the Black Hills. A perfect spot to have both the ceremony and reception and they have more than enough room for both.
How We Met
Although we are both from the same town, we never actually met until Mike moved to Des Moines, Iowa for work. I moved down to Des Moines for work in 2010, and Mike moved to Des Moines in 2014 for work.
My mother was friends with some of Mike's mutual friends and heard he was moving. So, my mom called me and asked if i would show him around the town and if she could give him my phone number. I showed him around town and we instantly hit it off. The rest is history!
Planning Our Day
Planning our wedding from 650 miles away was not nearly as difficult as I anticipated. I decided to do silk flowers so I didn't have the stress of real ones dying. I also contacted my flower vendor in the winter and saved a ton of money by having her make all the arrangements in the off season. I decided to do all of my own centerpieces as well to cut costs.
Wedding Hint
If you're looking to cut costs, try doing things like centerpieces yourself. If you aren't crafty, someone in your life is!
Choose your photographer wisely! I can't say enough about Cadey Reisner Weddings. Cadey seriously was my BEST investment.
SLOW DOWN. You won't truly enjoy your day if you don't take the time to slow down and take it all in. When people tell you that the day goes by quick, they aren't lying. Take the time to soak the day in, its the best day of your life!
Get Started
Find your perfect local vendors, Plan your perfect wedding, Share your perfect day - with Black Hills Bride.