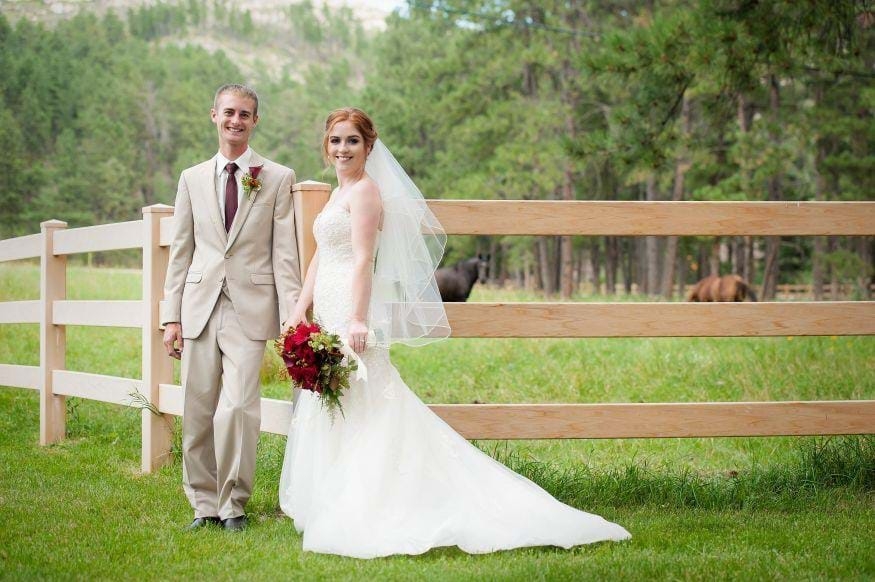 Jamie and Curtis Coomes
Wedding Story
Wedding Theme
Natural, Rustic
The Day We Said Yes
Saturday, August 15th, 2015
Our Love Story
Months after our wedding I look back and remember how I felt that day. It was hands down the hottest day of the year and I remember contemplating why I chose an August wedding. Most of all I remember the look Curtis gave me while I was walking down the aisle. My dad in step was talking to try and keep his tears away but I kept looking at Curtis. This was simply the best part of my day! He will never see me at that moment again and I am glad I get to look through photos for years to come and see that special look he gave me on our wedding day!
ceremony venue Copper Canyon Lodge
catering Pizza Ranch
reception venue Copper Canyon Lodge
transportation Da Bus
How We Met
Our love story started back in 2010, I was a biology nerd in college and Curtis loved the idea of being an entrepreneur. Our paths crossed and we formed a strong and enduring love for one another. I quickly moved away to Minnesota to live in a tent and start a new adventure but that didn't stop our immense love for one another. Whether we are kayaking or fishing we are inseparable. The happiest times involve being outside in the Black Hills with one another.
Planning Our Day
Curtis would joke and say I am too organized, but I beg to differ. I am known as the queen of the "binder" and as all of our wedding vendors know I am never without my trusty sidekick. This binder helped plan one of the best days of our life! Of course with our love for the Black Hills our theme involved burlap, pine needles and a whole lot of pinecones, twelve garbage bags to be exact! My love for Minnesota prevailed, when a 19 foot canoe was the stage for our bar and cooler. A memorable part of our ceremony involved a glass ceremony, which included pouring shards of glass that were transformed into a work of art! All seven colors were intricately poured into the jar by each one of our parents, they loved the touching moment and their love is molded into the art! This was a splurge well worth the money!
Wedding Hint
Never give up on your dreams. As a little girl, we all dream of our future wedding, we want to be Cinderella and have a day filled with magic! Always remember that you are surrounded by family and friends who love you and want to be immersed in your love. They are not there for the decorations or the fancy meal instead they are there to witness a sacred commitment between one another. This is your day, make it exactly how you want it! Family and friends are there to celebrate YOU and the love they support will help guide you to a lifelong journey with one another.
Get Started
Find your perfect local vendors, Plan your perfect wedding, Share your perfect day - with Black Hills Bride.