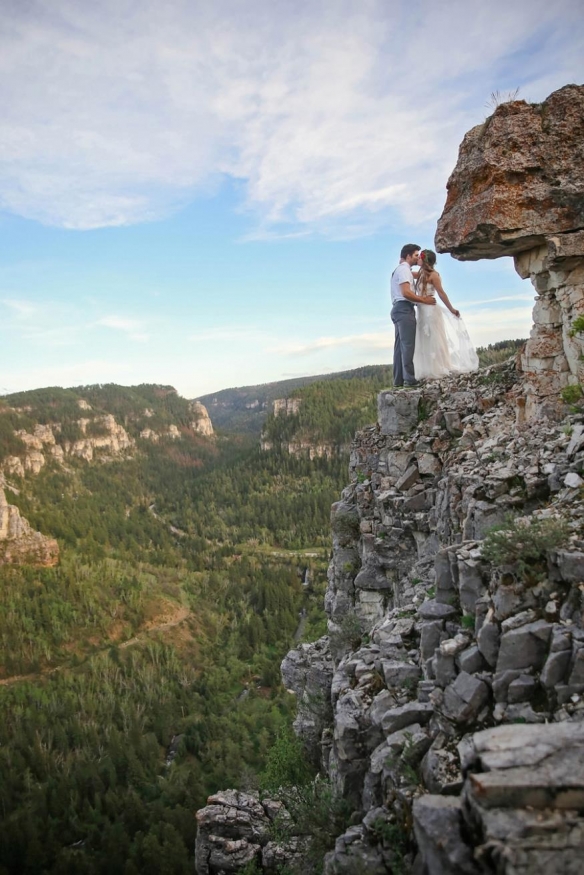 Jackie and Nate Derksen
Wedding Story
Wedding Theme
Bohemian, DIY, Natural, Rustic
The Day We Said Yes
Saturday, April 23rd, 2016
Our Love Story
The day was a typical Black Hills Day, snow 2 days before but incredibly hot and sunny on our wedding. All the worries about rain for in vain…as soon as the photos were done and we got inside, it rained. Not a minute before! The ceremony was at Jorgenson Park and the reception was at Bella Luce (event room at Steerfish Restaurant). Natural Escapes did the stunning photography. I would encourage every bride to do a bridal shoot in her dress after the honeymoon. It eases your mind with not being rushed for couples photos on the big day. We were able to take time hiking the Black Hills and taking photos with no rush.
How We Met
We met through our Crossfit gym, CrowPeak Crossfit. He was a coach at a Rapid City Crossfit but started coaching at my gym after he noticed me at a local competition. I was too shy to say hi at first! He was my first and last boyfriend 😊
Planning Our Day
It was a ton of DIY - my friends and family were my dream team! We had 3 months to plan!
Wedding Hint
Get everything in writing/contract before you say yes! We had a few unexpected expenses with our reception venue. In the end, they were great and it turned out lovely but if you have a tight budget get everything in writing first! As mentioned, do a bridal shoot after the wedding! Then you can relax the wedding day. Lastly, don't stress!!! What is meant to be will be. You will still have the love of your life by your side no matter what other details don't go according to planned. Stress steals joy!
Get Started
Find your perfect local vendors, Plan your perfect wedding, Share your perfect day - with Black Hills Bride.