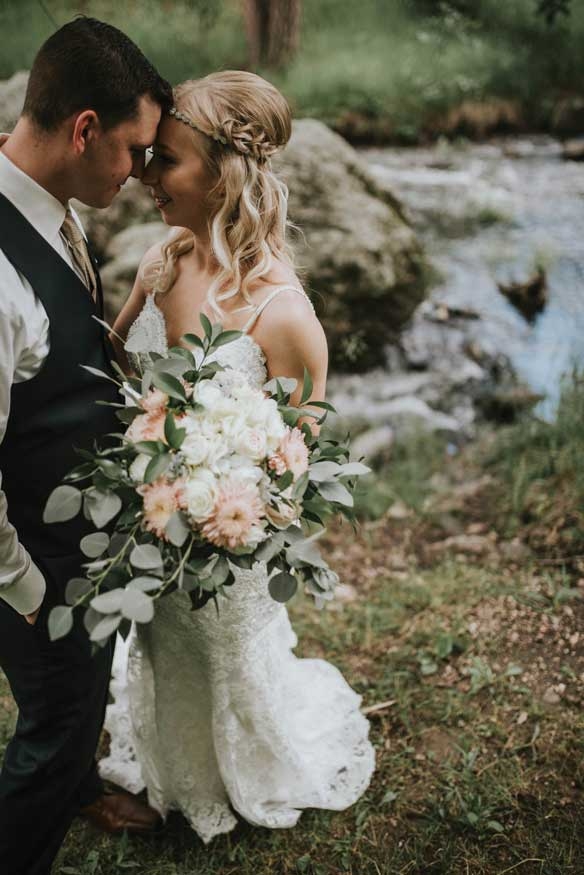 Hannah and James Rasmussen
Wedding Story
The Day We Said Yes
Friday, June 22nd, 2018
Our Love Story
The view was absolutely amazing. Custer State Park is gorgeous and had tons of beautiful places. It was nice that not only we could stay there but a lot of friends and family were able to stay at the State Park and didn't have to drive the day of. We also really loved our DJ. We had Jack from Complete Weddings + Events and he was awesome! It was super easy to work with their company and Jack met with us beforehand to set up details and make sure we were comfortable with everything. Jack basically ran our reception all night and it was nice to have someone keep everything moving because we were completely loosing track of time. Jack made sure we did the cake cut and other parts of the night while the photographer and videographer were still there. A lot of our guests came up to us throughout the night and afterwards exclaiming about how awesome our DJ was.
How We Met
We met when I was 16 and he was 17 years old. We would probably be considered high school sweethearts, although we didn't meet through high school because we went to different schools. On valentines day I had basketball practice and then went to subway (where I worked) to get dinner. Some of my friends from work were at subway as well and he was hanging out with them. We all ended up hanging out that night and James and I started talking and hanging out a lot after that. One month later we started dating 😊

We were actually in Cancun, Mexico when he proposed! We had decided to go to Mexico over my fall break from school, and James said he had an excursion planned for our last night there. Our last night in Mexico we went on a couples cruise and at the end their was a saxophone player and we were all slow dancing on the boat. Then the guy in charge said that James had something he wanted to say to me, and that's when he proposed! Of course I started crying and said yes, but apparently he didn't hear me through my tears. So just like in a movie or something a guy from the back of the boat yelled "are you gunna answer him or what?" So I said yes again, loud enough for everyone to hear.
Planning Our Day
We got engaged on October 22nd, and married the following June 22nd so we planned our wedding in exactly 8 months. We didn't have a wedding planner, but one tool I found extremely helpful was the Knot's wedding planning book. It's a big binder that breaks down the planning process into multiple sections starting from the basics of planning a wedding down to the big day. It was filled with lots of checklists (which I love) and details on a lot of stuff that I wouldn't have thought of on my own.
Wedding Hint
My advice for other brides is to not get so wrapped up in the details of what you are doing and forgetting why you are doing it. Don't get me wrong, I planned down to the details, but when the day came I really just put all my worries to the side and accepted that it was going to be a great day no matter what. Planning and budgeting can be stressful but at the end of the day no matter what little details may be perfect or go wrong, you probably won't even notice them. You will be so caught up in enjoying this day for you and being surrounding with loved ones that the details will seem so much smaller. Don't forget the reason why behind what you are doing. You are starting a life full of sleepovers with your best friend, mornings filled with not wanting to get out of bed for work, nights of dinner together spent with conversation and laughter, weekends full of adventure when you plan to take a last minute vacation, and Saturdays filled with Netflix and the couch on days you don't want to be productive. Weddings and the reception is great, but not much is better than the few days following the wedding that you get to spend with your new husband 😊
Get Started
Find your perfect local vendors, Plan your perfect wedding, Share your perfect day - with Black Hills Bride.