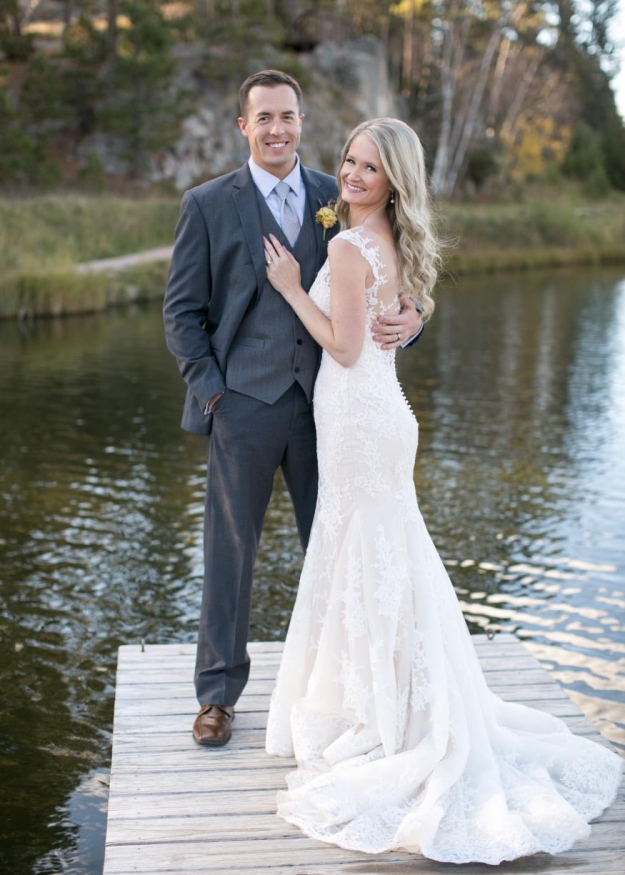 Hallie and Sam Schnell
Wedding Story
Wedding Theme
Natural, Romantic, Rustic
The Day We Said Yes
Friday, October 7th, 2016
Our Love Story
Our perfect day was exactly that. Looking back, Sam and I would not change a single thing about our wedding day. We are both from Rapid City, so choosing where to have the wedding was pretty easy. We were married on October 7th, 2016 in front of all of our friends and family in the church that I dreamt of getting married in ever since I was a little girl. Our ceremony was at the beautiful Cathedral of Our Lady of Perpetual Help. I had always hoped of walking down that LONG aisle to my groom someday 😊 Directly following the ceremony we jumped in the greatest limo (Fionna the Dubbus) and headed up to Sylvan Lake, singing and dancing to every 90's hit with our wedding party. Our reception was held at Sylvan Lake Auditorium. Sam and I really wanted our guests to get that feeling of being in the Hills, so we served Custer State Park buffalo meatloaf and even topped of the evening with treat bags for guests filled with Keystone, SD Salt Water Taffy!
flowers Jenny's Floral
transportation Fiona the DubBus by Black Hills Tour Company
How We Met
This is a question that is argued about between many family members in both of our families. Sam and I both grew up in Rapid City, but went to different high schools. Most of our relationship was long distance, and stayed that way for over two years. Sam was home on leave from the Marine Corps and we happen to both get a ride home from my cousin, who was friends with his brother. It's a small world, and you will never know who you will meet in the back of a car packed with 7 other people.
Planning Our Day
As nice as it would be to have a wedding planner, I loved knowing every single detail about our wedding day. My mom and I would talk daily about even the smallest of details. Having Sam and his parents just as involved was something I found important as well. Having a groom be just as involved as the bride, I believe, makes him appreciate every single thing about the wedding day as well! Most importantly, a month before the wedding I typed up a detailed itinerary for our parents and brothers. We all sat down over breakfast one morning and went over every single question anyone had. The day of the wedding, things went smoother than ever and everyone knew exactly where and what they were supposed to be doing.
Wedding Hint
Have a vision of what you would like your wedding to look like! I knew I wanted a "Fall" look, but that means many things to everyone. Also, I highly recommend using Rent The Runway for your bridesmaids. I loved my bridesmaid dresses so much! Our wedding was on a Friday. Bridesmaid dresses arrived Wednesday to their houses, and they sent them back on Sunday. Thankfully, they don't have to add another dress to their closet to collect dust! 😊
Get Started
Find your perfect local vendors, Plan your perfect wedding, Share your perfect day - with Black Hills Bride.