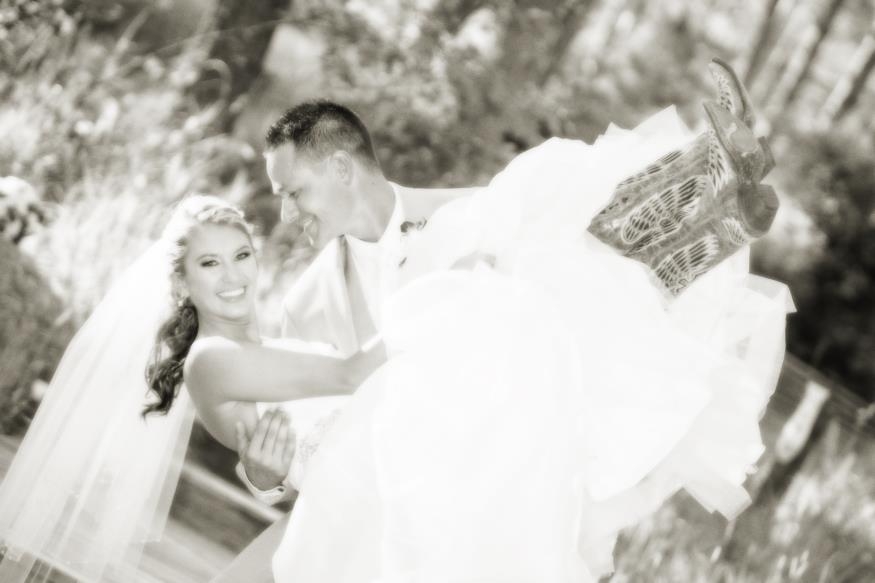 Chelsea and Trace Richardson
Wedding Story
The Day We Said Yes
Sunday, July 30th, 2017
Our Love Story
Our day was as beautiful as we could have ever imagined! Trace and I were living in Gillette, Wyoming when we got engaged. We had just moved there, away from both of our families; mine in Denver, Colorado and his in Farmington, New Mexico, and were still adjusting to being so far away from everyone. A week before Trace proposed, my grandmother came to visit us, and we decided to head to Rapid City, South Dakota. It was only a two hour drive and we knew that we'd be able to find something fun to do there. When it was time to head back to Gillette, Trace decided to take the scenic route home and drove through the mountains. It was during that drive that we passed Black Hills Receptions and Rentals and Trace witnessed me not only do a swift double take, but furiously search on my phone for the venue I just saw. I didn't think he noticed, as I was trying to hide it from him, considering we weren't engaged. A week later, he proposed in Keystone, South Dakota. After all the excitement from the engagement settled down, we got down to business with the wedding planning with the first order of business being the venue. We wanted to find a venue that incorporated both of our love for the outdoors, but allowed us to have the rustic wedding we had both dreamt of. Trace immediately remembered our drive through the mountains and my reaction to seeing Black Hills Receptions and called them to make an appointment to tour.

A week later we toured the property and we fell in love with it the second we stepped on the property. We knew that we were going to be able to have the wedding of our dreams! And it was the perfect location for us, as it was only two hours away and although both sides of our families would have to travel, we knew everyone would find it worth it. It exceeded our expectations! Because of the location we chose, both sides of our families and our friends were not only able to come celebrate our wedding with us, but many were able to turn it into a family vacation of their own! Upon arriving, many family members quickly found themselves touring Rapid City and visiting the many landmarks that The Black Hills and surrounding towns had to offer. All the young kids that traveled many hours to come be with us quickly met us with smiles and laughter filled stories of the adventure they just went on with their family.

The day finally came and it was absolutely beautiful! The weather was perfect! Trace spent the morning with his groomsmen and friends at a nearby lake, while myself and my bridesmaids were off getting our hair and makeup done in the Cinderella gazebo. Our ceremony was at 4:30 pm, allowing for our guests to enjoy our outdoor ceremony in the cool evening air. Our ceremony was short and sweet, officiated by Trace's father, and was followed by a cocktail hour where our guests could enjoy hourdevoures and drinks while we had a photography hour to capture our special day! After we finished the photography we were introduced into the reception tent which literally looked like a scene from a movie with all of the gorgeous decorations. It was a perfect setting for our reception where both sides of the family ate dinner together and danced the night away. It was truly a celebration that we had always dreamed of with both of our families dancing and celebrating becoming one!
Our wedding went off without a single glitch and to this day we both look back and talk about how it truly was everything we ever wanted, and the best day of our lives.
catering Catered Two
cake Star Spangled Batter a Cupcakery
flowers Jenny's Floral
music Colt 45 Entertainment
entertainment Colt 45 Entertainment
transportation Da Bus
How We Met
Trace and I met in Denver, Colorado in 2014 through, believe it or not, Tinder! That's right, we are one of the success stories that can say without a doubt that we "are glad we swiped right!" Trace had just moved to Denver about a year prior to us meeting, whereas I was born and raised in Denver. We both had been exploring the dating scene and were tired of meeting people in bars or the blind dates that our friends generously set us up on swearing that that person we were meeting would be "the one" only to find out shortly after that "the one" was still out there. I was actually signing onto Tinder the night we 'matched' to delete my account, as I was beginning to find that the Tinder scene, like the bars, was not really my thing. Upon signing on I received the notification that Trace and I had 'matched' and so I curiously checked it out. We started talking that night and we hit it off really well! After a few days of conversation, he asked me to come over for dinner that night. I was not feeling well to start, and because I had grown leery of Tinder, I tried to get out of the date. I told him I was not feeling well, to which he told me he'd make a soup for dinner and we could sit and watch movies and drink hot chocolate or cider, whichever I preferred. I finally caved in and decided to go on the date, but I forewarned him that I would not be getting dressed up for him and to prepare himself since I was not feeling well. He assured me it would be fine.

We like to tell everyone that our relationship had a 'moment of impact' just like the couple in the movie The Vow. reason being is because it was just that! I showed up to his house in sweat pants, a hoodie, no makeup, and my hair on top of my head; Cindy Lou Who style. Upon me arriving, I was quickly greeted by an extremely tall, good looking man in the driveway, who proceeded to sweep me off my feet, literally! After he introduced himself and said hello, he bent down to give me a hug and ended up picking me up and holding me into him for a few minutes. And it was in that moment that we both knew that we had finally found "the one" we had been searching for so long. We went inside and as promised he had a soup that he had made, a handful of movies on the table for me to choose from, and both hot apple cider and hot chocolate made. We spent the evening hanging out, watching movies, eating and drinking, and laughing. We laughed a lot (as we still do today!) and I remember this so well because it had been a long time since I had laughed like I did that night. And from that night on, we were inseparable.
Planning Our Day
Trace's job at the time of our engagement had him traveling quite frequently. During the spring, summer, and especially the fall he traveled what felt like all the time. He would typically be gone for 8-18 weeks at a time, with an occasional weekend home. We got engaged on August 4, 2016, so we knew that his fall trip was coming up quickly, the end of September to be precise, and that it was going to be at least 9 weeks that he was on the road. Since we knew this was coming, we decided to get as much wedding planning done as possible. We made a list prioritizing what needed to be done right away and what could wait. We quickly set our date, booked our venue, and booked our vendors. After that we chose our wedding colors and I began searching for my dress and my bridesmaids' dresses. Getting all the big stuff out of the way helped us out tremendously! Once we got the big stuff out of the way we were able to sit back a little bit and allow him to focus on his work. And as the months got closer, we would tackle each new item as it came along.
Wedding Hint
One of my biggest saving graces was downloading the app Wedding Wire! It helped me prioritize what needed to be done and listed out everything that is typically done before (and even after) weddings with due dates. It also included a place to chat with other brides and can even help you find vendors/businesses in the area of your wedding with reviews and contact information.

Another thing I would highly recommend is including your fiancé and being open to his ideas. When I first began planning I had many women tell me that involving Trace was a bad idea because he really wouldn't care anyway and that it was "my day." From the beginning I disagreed with this statement whole heartedly and even found that Trace was excited and was enjoying being a part of the decision process. Although there were times where we didn't see eye to eye, we were both able to take a step back and look at each others' ideas and see the good and bad in each and would meet in the middle. I truly believe that this was a major contributing factor in making sure the day was perfect because it was what we both wanted, rather than what only one of us wanted.
Get Started
Find your perfect local vendors, Plan your perfect wedding, Share your perfect day - with Black Hills Bride.