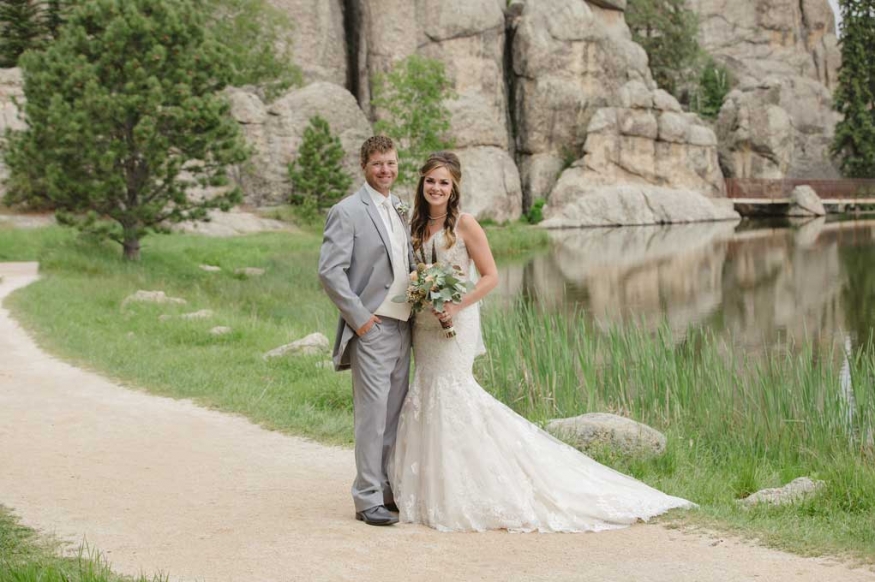 Cami and Kyle Bussmus
Wedding Story
The Day We Said Yes
Saturday, June 16th, 2018
Our Love Story
As I'm sure most brides say, our wedding day was amazing. Rain was forecast for the weekend, and it did rain a bit the morning of our wedding day (which they say is good luck!), but the clouds parted and the sun came out just in time. It was absolutely gorgeous for our outdoor ceremony on Sylvan Lake. We even had fog roll in over the lake and through the valleys for an amazing photo backdrop following the ceremony. Everything went smoothly.
Our ceremony was very meaningful with handwritten vows, carefully selected music played on violin and piano by close friends, and my aunt as our officiant.
The reception kicked off with our wedding party introductions forming a human tunnel for us to enter the Sylvan Lake Auditorium. Our DJ released tables by theme songs, our meal was delicious, and the dance floor was packed all night. One of the most memorable moments was my dad surprising us by serenading us for the father-daughter dance. There wasn't a dry eye in the room. The whole day was one of the most memorable times of our lives with the people we love the most.
cake Aunt Dawn's Custom Cakes
How We Met
Kyle and I grew up living 3 miles from each other in Mitchell, SD. We dated for the first time as sophomores in high school and again after my freshman year in college. I had transferred from the U of M-Minneapolis to SDSU when we rekindled our high school relationship. We were quite a bit more serious the second time around than the initial high school sweetheart romance and had a lot of great times. However, being a college student and an independent-free bird, I wasn't ready to settle down and needed "a break" to "find myself" and experience what college and life had in store for me at that point. We went our separate ways….
10 YEARS PASSED…....
Thanks to both of our sister-in-laws and a few other friends and family members, we were reunited on October 22, 2016. Since that day, we have been so lucky to know in our hearts we were meant to be and both couldn't be happier.
The third time was the charm of our dating days, so after just 6 months of being together, we were both sure we were meant to be. Kyle got down on one knee and popped the question on April 29, 2017. He decided to propose before we went out to dinner at Steerfish, one of our favorite restaurants in Spearfish. He had hid the ring under my broom closet, unsure of when the right time was. He got a little panicked when I happened to decide to start sweeping the floor before we headed out to dinner. I turned around and there he was on one knee after he'd knelt down to save the ring from being swept into a dust pan!
Planning Our Day
We were engaged on April 29, 2017 and our wedding was June 16, 2018, so I had a little over a year to plan. I did all the planning myself but now have a complete understanding of how Wedding Planner can be a full-time job title! I ordered an Erin Condren wedding planning notebook with checklists and kept track of everything in that. I set up a wedding website and researched some vendors on The Knot and got ideas from Pinterest, Facebook and wedding magazines (including Black Hills Bride!). I also attended the Black Hills Bridal Fair in Spearfish which was really nice to be able to meet and talk to vendors in person all in one place. Family and friends helped us make our ceremony pergola and table decorations, which was fun and made that part of planning more personal and cost effective. Custer State Park Resort provides a wedding coordinator and day-off wedding planner and our photographer and DJ were also great about keeping us all in line and on schedule throughout the weekend of our wedding.
Wedding Hint
Prioritize what is most important to you, research vendors, and book vendors as early as possible! Looking back, I wish I would have hired a professional videographer, but by the time I decided I wanted one for sure, there weren't any available on our wedding day. We settled for video/camera rentals through Wedit.com, which was better than nothing. But, all in all, enjoy the entire experience! From the beginning stages of planning to your wedding day, don't sweat the small stuff, it will all come together! Soak up the time with your soon-to-be husband, family and friends on what is sure to be one of the most important days of your life.
Get Started
Find your perfect local vendors, Plan your perfect wedding, Share your perfect day - with Black Hills Bride.