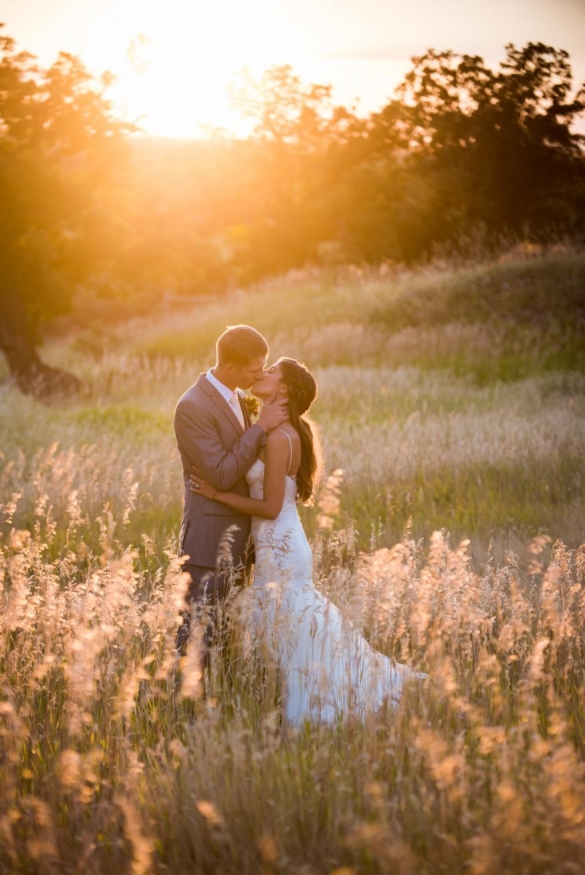 Brittni and Jacob Reichert
Wedding Story
Wedding Theme
Country, Rustic
The Day We Said Yes
Saturday, July 29th, 2017
Our Love Story
The beginning of the rest of your life is a difficult experience to try and put into words. It really is unexplainable. You're surrounded by so many friends and family and an abundance of love. We were joined by incredible, thoughtful, loving people and couldn't be more grateful for everything they did for us. The day was beautiful, hot but not a scorcher. Mother nature almost let loose on us but the storms stayed just north and just south of us, and we were fortunate enough to get only a few sprinkles during the reception.
Meaningful details were incorporated throughout our day. The stylist who did my hair has been doing my hair since I was in middle school. Our officiant is a close friend whose wife was also a bridesmaid. We chose to get married in a barn because of Jake's family's deep agricultural background. My bouquet was wrapped by a locket that has a photograph of my late grandmother in it; every woman in my family carries it with them on their wedding day. I wore the same veil my mother wore at my parents wedding three days shy of thirty years before. And my dad made the most incredible speech with not a dry eye in the house. I couldn't pick a favorite part (aside from saying I do) if I tried.
cake Star Spangled Batter a Cupcakery
How We Met
Jake and I are high school sweethearts. We met junior year of high school in physics class which was the only class we ever ended up having together. I wasn't originally supposed to be in that class but rearranged my schedule last minute so I could head to my after school job earlier. We got assigned to the same group for a project and that was the end of it (at least for me). I made the first move and after some convincing, he came around. He's glad he did. After almost eight years, four of which were long distance, including one year of deployment to Afghanistan for Jake, I guess you could say it was about time for this day.
Planning Our Day
Weddings are so fun for me. I love all the details and the research. Dresses, lace, flowers, cake… all of it. I feel as though I'll have to be a wedding planner in my next life. Jake gave his input on the important things and what mattered to him and trusted me to take over the rest, though he was skeptical at first when I told him we were getting married in a barn. It all panned out in the end. There was certainly a lot of help from my parents throughout the planning process, and social media was a critical resource in getting the juices flowing. The brainstorming and the research was all a part of the fun. There is a whole lot of incredible inspiration floating around out there.
For us, I tried to stick to something that would fit for us. We're both very casual people so we knew it wouldn't be a lavish affair by any means. After finding a beautiful barn, it was a no brainer knowing Jake's agricultural background. We got exceedingly lucky with our caterer. They went above and beyond the call of duty. And who doesn't want barbecue on their wedding day? We were also able to bring home the leftovers, which was a huge plus.
I tried to put emphasis on what mattered to us and forgot about the things that didn't. I loved all the personal touches we were able to incorporate. Our vendors were incredible resources in and of themselves. They were great sounding boards and could point us in the right direction if we were looking for another reliable vendor. The Black Hills area has a great network. It all falls into place. Most of all, our friends and family were our most valuable resource, especially since we relied heavily on them for help setting up and tearing down.
Enjoy the process! It certainly can get stressful but it's not every day you get to plan a wedding to the love of your life!
Wedding Hint
You do you. Do what you and your future husband want and what represents you both. Don't feel the need to follow the "rules" if you don't want. This isn't about anyone else but the two of you. It's a celebration of you! If you want to cut out old traditions that don't fit for you both, do it! You can always replace it with a new one of your own. It's about what makes you and your new husband happy. At the end of the day, you're married to a person you fell madly in love with and that's what truly matters.
Get Started
Find your perfect local vendors, Plan your perfect wedding, Share your perfect day - with Black Hills Bride.