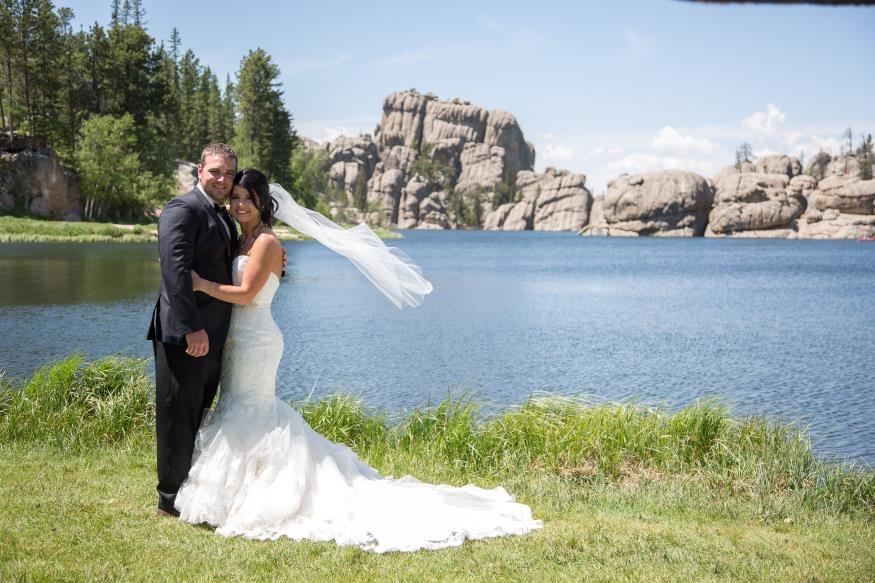 Brittany and Cody Uran
Wedding Story
Wedding Theme
Natural, Romantic, Rustic, Vintage, Whimsical
The Day We Said Yes
Saturday, June 11th, 2016
Our Love Story
Our Wedding day was incredible to say the least. It was a day that we will forever remember and wish we could relive over and over again! It was a warm June day, one of the warmer weekends of the summer. We had so many special people there to help us celebrate, it made the day that much more enjoyable. It was a day full of love!
cake Star Spangled Batter a Cupcakery
flowers Jenny's Floral
How We Met
Cody and I had been acquaintances for years, both being from the same area. We "officially" met through mutual friends. His first cousin is married to one of my best friends. He first had inquired to my friend about me at a family reunion. After that we went on a double date, the four of us; my friend, his cousin, and the two of us. We hit it off immediately, and started spending a lot of our time together. We started officially dating a month after meeting, and were engaged a year and a half later.
Planning Our Day
Our engagement was the perfect length (a year) for us to plan the unbelievable details of the day. We had always said we would get married in South Dakota, because it was always our destination of choice when planning a get-away. We love the area and all it has to offer. When starting the planning process, we knew the venue was going to be one of the biggest decisions; so we started our research right away. Several factors helped us make the decision on Sylvan Lake, first the beauty of the lake and hills combined made it a great setting. We had a general idea of how big we wanted the wedding, and Sylvan Resort was the perfect size. Having our wedding at a "destination", we wanted our guests to have an easily accessible place to stay after the festivities. The State Park having resorts was the perfect option. Planning our wedding was such a fun experience. We made sure that we enjoyed the process and had fun with it!
Wedding Hint
Have an image in mind of what you want/are looking for. When you begin wedding planning, it can be overwhelming. Focusing on what you want most, will help make the decision-making process easier! Get what is most important to you booked first.
When finding your bridal gown, consider what is appropriate for the venue. I had a long train on my gown, and it got dirty and cumbersome being outdoors most of the day. Also think about bathroom breaks the day of. We had to undo my corset and completely take off my dress!! Bathroom breaks were nearly impossible. I never thought of that when buying my dress.
Most importantly, on the wedding day, relax and take it all in! Try allowing for down-time to enjoy and absorb it all.
Get Started
Find your perfect local vendors, Plan your perfect wedding, Share your perfect day - with Black Hills Bride.