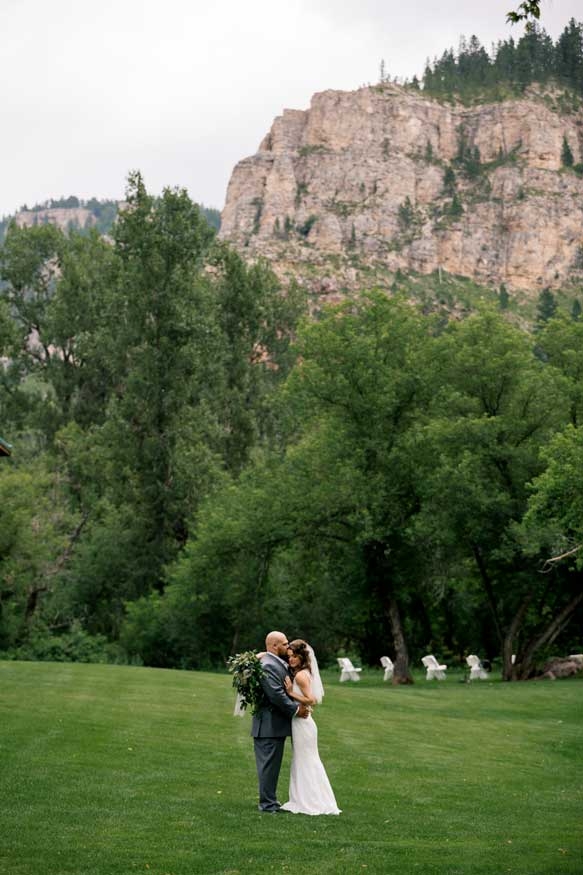 Bree and Nathan Yelton
Wedding Story
The Day We Said Yes
Saturday, July 28th, 2018
Our Love Story
Our wedding day, surprisingly, went off without a hitch. Which we would have never guessed leading up to it. The day before our wedding everything that could have gone wrong, did. The day prior started with us having to find a new officiant, the power going out at our venue due to a massive hail storm, and us being up the entire night with food poisoning. We both woke up feeling like we had been hit by a train and had no idea how we were going to make it through the day. After lots of water and tums, we started getting ready for the day. The lodge still did not have any power, so we had to get ready by the windows as it was the only light in our room, and in order to get my hair done, Heather and I went down to the lobby behind the front desk as it was the only place that was running on the generator. In addition, we had to change the location of the reception that day, as the original location didn't have power, and wouldn't be able to make and serve food. Justin, being the wonderful man he is, worked his tail off to bring all of the decorations, tables, and chairs, from across the street into the lobby of the lodge to accommodate for the power outage. Magically, the weather held out and we managed to get all of our pictures and ceremony done outside on the lawn like we had planned. The minute everyone was inside and the cocktail hour began, the power came back on and it decided to torrential down pour and hail outside, almost as if it had held out just for us. The rest of the night was magical. The reception was gorgeous, Justin and the dream team made it look absolutely stunning. The food was so delicious, and being in the presence of all our favorite people just made it so extremely special. At the end of the day, it could not have been more perfect. Nathan and I are so thankful to have had the team we did to make our day happen, and to make it happen as wonderfully as they did, we truly cannot thank them enough.
officiant Blooming Love by Bloomers Flowers & Gifts
How We Met
Nathan and I met while working together as personal trainers at our local gym. We quickly became great friends and realized how much we had in common. We both knew after our first date that we had found the one.
Nathan proposed to me on Dec 9th, 2017. We were settling down after a long day of moving furniture and very high energy kids. After putting the kids to bed we were looking forward to relaxing together, watching a movie, and enjoying each others company. I had sat down on the couch and was waiting for Nathan to come out of our room. When he did, he was sitting on the edge of the couch and started to nervously tell me how much he loves me and appreciates all that I do. I didn't realize what was going on at first and was clearly oblivious to where he was headed until he slid down onto one knee and pulled the ring box out from behind him. At that moment it hit me and I responded with, "Oh f@#&!". Of course, I said yes, and we spent the rest of the night calling our family members to tell them the news.
Planning Our Day
It took us 6 months to plan our wedding, and to be honest, we couldn't have done it with out or photographer, Sandra. Because we were planning a destination wedding, we weren't entirely familiar with the vendors available and also weren't able to meet or see anything in person before booking. After hearing our vision for our wedding, it was as if Sandra waived her magic wand, and made the entire process a dream come true (Cheesy, yes. Also very true). She assembled what we still to this day call the Dream Team, and made the process so amazingly seamless. Sandra was such a blessing throughout the entire process, and I'm so thankful we found her.
Wedding Hint
Relax. No matter what happens on your wedding day (or leading up to it) good bad or ugly, you're going to get married, and that's all that matters. I told Nate the morning of our wedding, even if we are standing at the alter in sweat pants with barf bags, I'm marrying you today. I think a lot of brides put a lot of pressure on how their wedding looks and everything being perfect. Don't. Even after all seemed to go wrong, those are the stories we have to tell, and none of our guests would have known that anything had gone wrong at all. No matter what, you get to marry the person of your dreams, and at the end of the day that's the most important thing