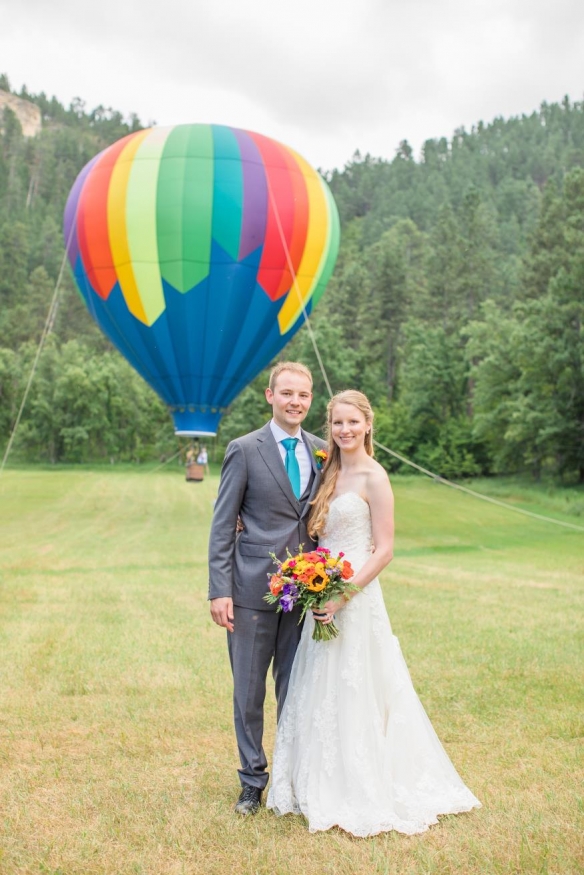 Anne and Alex Susko
Wedding Story
Wedding Theme
Natural, Rustic
The Day We Said Yes
Sunday, September 1st, 2019
Our Love Story
Alex and Anne chose to host their wedding on private land in the Stratobowl south of Rapid City, SD near Rockerville. Anne is a hot air balloon pilot and has flown her balloon out of the Stratobowl every September for 10 years, so her family is good friends with the Tomovicks who live in the Stratobowl.
Alex and Anne focused on details including a clear top tent with lights strung inside it, signs made by a friend of the couple, centerpiece flowers grown and arranged by the groom, plant favors for wedding guests grown by the groom, and a DIY photo booth. Highlights of the day included hot air balloon rides during cocktail hour and live music by Cambria String Band during the reception. Other special things about the day included drinking beer brewed by the couple's friends and family at A Homestead Brew in Valley Springs, SD.
catering Anything's Possible Catering
cake Star Spangled Batter a Cupcakery
flowers Jenny's Floral
transportation Giddy Up Shuttles
How We Met
Anne and Alex met through their mutual friend Kathryn Krieger. Anne works with Kathryn at Polaris, and Alex was college friends with Kathryn at the University of Minnesota. Anne and Alex had been friends for some time before Alex eventually captured Anne's attention with gifts of garden vegetables. Anne and Alex learned of their mutual interest in the outdoors and music. The couple plays in community band together and enjoys hiking, gardening, camping, and ballooning among other outdoor activities.
Planning Our Day
Anne's mother Denise was first diagnosed with breast cancer in 2014. Her battle with cancer ended in June of 2019. Anne and Alex knew Denise wouldn't be able to attend their September 1st wedding by early in 2019. To ensure Anne's mother could be a part of their wedding, they held a private wedding in the same space in the Stratobowl on April 5, 2019. Only their immediate families attended with the help of their officiant and photographer. Anne and Alex still chose to hold a very similar ceremony for all of their family and friends on September 1st.
Wedding Hint
Don't forget to make sure your wedding reflects who you are as a couple!
Get Started
Find your perfect local vendors, Plan your perfect wedding, Share your perfect day - with Black Hills Bride.