45th Annual Bridal Showcase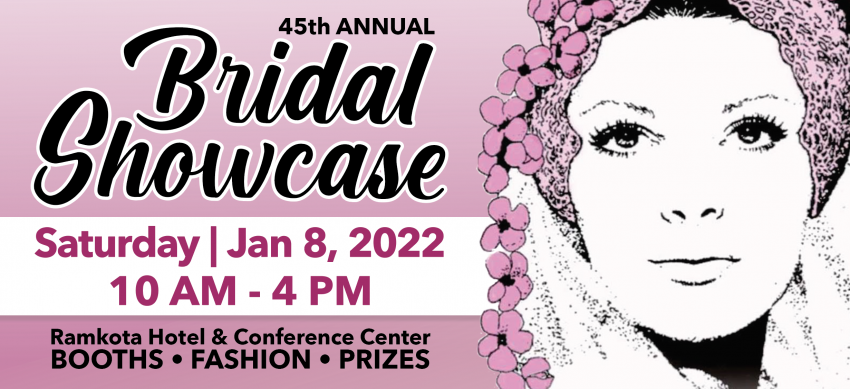 Plan to attend the 45th Annual Bridal Showcase on Saturday, January 8, 2022, at the Best Western Ramkota Hotel and Conference Center.

The 2022 Bridal Showcase in Rapid City gives brides-to-be and grooms the opportunity to meet the professionals who help make their event memorable. This annual event features photographers, florists, DJs, hotel and reception facility coordinators, jewelry professionals, wedding planners and officiants, beauty and makeup experts, and more.

Indulge on some delectable food from the caterers who are on-site and nibble on a sample of wedding cake. The latest bridal attire will be featured at the noon and the 3 p.m. show.

REGISTRATION IS OPEN
Pre-registration is $5. 00 per person
Pre-Register

Pre-registration will close at 9 PM on Friday, January 7. Admission is $7.50 at the door.
Fashion Show at Noon and 3 PM
Be inspired by the latest bridal attire as it takes the runway.
Bride's be sure to register for the $500 gift certificate from Riddle's Jewelry. Grooms be sure to register for 50" HD Smart TV.
Other prize drawings include gift baskets, dinner reservations, overnight hotel stays, gift cards, and more. Your online registration automatically enters you in the drawings.
Whether you're planning your wedding or organizing a special event the Bridal Showcase professionals can customize your experience to ensure your special day is anything but ordinary!

______________________________________________________________________________________
2022 Vendors + Prizes
GRAND PRIZES
Brides: $500 Gift Certificate // Riddle's Jewelry
Grooms: 50" HD Smart TV // Bridal Showcase

Aby's Feed and Seed
Alex Johnson Hotel
Angel's Catering & Receptions // $250 Couples Champagne Gift Basket
Anything's Possible Catering // $50 Two Dozen Chocolate Covered Strawberries
Audra's Bridal Gallery, Inc. // $200 Gift Certificate
Barre Forte // $125 One Month Free Membership
Black Hills Brick Oven Pizza
Black Hills Receptions and Rentals // $285 Cinderella Gazebo
Caricatures by Alyssa
ChrisBro Hospitality // $100 One Night Stay Hampton Inn Rapid City
Chutin Flicks Photography // $500 Engagement Photo Gift Certificate
Colt 45 Entertainment, LLC // $250 Gift Certificate
Complete Weddings & Events // $100 Gift Basket
Cruise Planners - Robyn Finch
Custer State Park Resorts // $75 Gift Card Sylvan Restaurant
Dahl Fine Arts Center
Flowers by LeRoy // $100 Gift Card
Generations Weddings and Events // $50 Victoria's Garden Gift Certificate
Giddy-Up & Go Shuttle Service // $100 Shuttle Service
Hampton by Hilton
Hilton Garden Inn Rapid City // One Night Stay
Holiday Inn Rapid City - Rushmore Plaza // $200 Value Plaza Suite w/ Brunch for Two
Homestake Opera House
IndigoBlue Photography
Infinity Salon & Wellness Spa // $100 Bride Gift Certificate & 50 Groom Gift Certificate
Justin Straw Designs // $350 Styled Engagement Shoot
K Bar S Lodge // $500 Two Night Stay Room w/ Deck
Ken Petersen's Milestone Events
Krystal the Krazy Lash Lady
Legendary Limousine
Liv Hospitality // $250 One Year Vertex Membership
Main Street Menswear // $90 Scrid Automatic Wallet
Maple Street BBQ // $50 Gift Card
Mary Maisey-Ireland, Wedding Officiant // $50 TJ Maxx Gift Card
Mary's Mountain Cookies - Rapid City
Minerva's Restaurant and Bar // Minerva's Gift Card
Mist & Moonlight Photography // $50 Victoria's Secret Gift Card
Muley Hill Lodge, LLC // $500 Free Night Stay at Lodge or Bunkhouse
Nathan Hans Films
National Dance Clubs // $235 Ballroom Confidence Builder Dance Lessons
Nell's Gourmet To Go // $210 Gourmet Filled Cupcakes Five Dozen
PhoenixPhotos Photography
Powerhouse Dance DJ's & Sound Productions
Prestige Cleaners Inc. // $233 Bridal Gown Preservation Gift Certificate
Ranch A
R. Becker Creative // $100 Free Reprints
Riddle's Jewelry // $500 Gift Certificate
Roots Wedding Florals // $185 Bridal Bouquet from the Bridal Show
Rushmore Photo Booth // $100 Gift Certificate
Rustic Nook Bakery
Spur Creek Saloon & Ranch
Sundance Girl Photography
Sweet Secrets Bakery // $50 Gift Cards
Table 4 Decor
The Good Witch Cake Shop // $50 Gift Card
The Joy Center // $100 Gift Basket
The Lodge at Deadwood // $150 One Night Stay
The Music Man
Truly Yours Event Planning, LLC // $50 Wedding Planning Basket
Wedding Rentals of the Black Hills
West River Weddings
Woodlands Receptions
Wyn Wedding & Event Planning
Get Started
Find your perfect local vendors, Plan your perfect wedding, Share your perfect day - with Black Hills Bride.